L'undicesima stagione di The Big Bang Theory debutta sul canale statunitense CBS il 25 settembre con alla guida di questi nuovi episodi lo showrunner fresco fresco di nomina Steve Holland. Ormai da tempo sapevamo dell' abbandono di Steven Molaro, impiegato al momento insieme al creatore e produttore di The Big Bang Theory Chuck Lorre nello spin-off Young Sheldon.
ATTENZIONE SPOILER
La nuova avventura di Holland inizia con la risoluzione, e le conseguenze che ne deriveranno, del finale della decima stagione in cui Sheldon chiede ad Amy di sposarlo. Questo non sarà sicuramente un problema per Holland, già produttore esecutivo, e autore di alcuni episodi sin dalla terza stagione. Ma quello che in molti si stanno chiedendo è se sia possibile un crossover fra The Big Bang Theory e Young Sheldon, vista la strettissima relazione tra le due Serie e i loro autori. Holland ha commentato così:
Lorre e Molaro sono ancora coinvolti in questo spettacolo, ma penso che in questo momento siano concentrati solo nella riuscita di Young Sheldon, cercano di renderlo unico e di fargli avere la sua voce indipendente. Quindi non abbiamo piani per un grande crossover adesso, ma ci sono certamente tutte le carte per farlo funzionare. Possono accadere alcune cose in Young Sheldon a cui si potrebbe fare riferimento in The Big Bang Theory, unendoli. E forse in futuro potrebbe esserci qualcosa di più grande, si potrebbe incontrare qualcuno legato al passato di Sheldon.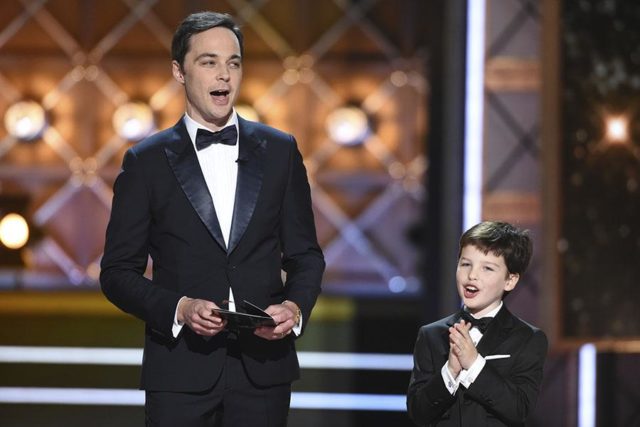 Ha inoltre svelato alcuni nomi di guest star che vedremo nell'undicesima stagione:
Abbiamo girato solo quattro episodi, ma ci sarà sicuramente Riki Lindhome, che ha interpretato la dottoressa Nowitzki, che ha baciato Sheldon,e tornerà nel primo episodio. C'è un'altra guest star in quell'episodio, ma penso che potrebbe essere uno spoiler, quindi non voglio dirlo. Ma Sheldon ha bisogno di chiedere il permesso a qualcuno prima di poter chiedere a Amy di sposarlo. In seguito torneranno alcuni dei personaggi più amati: ci sarà Wil Wheaton, Brian Posehn (Bert il geologo) e Regina King. E potrebbe tornare un'altra guest star di cui sono entusiasta, ma non credo che sia ancora ufficiale, quindi posso solo stuzzicare la vostra curiosità.
Ha commentato poi l'eventualità di un'evoluzione sostanziale nel rapporto di Leonard e Penny, ovvero l'arrivo di un piccolo Hofstadter.
Ovviamente Howard e Bernadette hanno un bambino e Sheldon ha proposto ad Amy di sposarlo, quindi certamente ci saranno alcune cose per Leonard e Penny, un passo avanti nella loro relazione. Ma abbiamo già un bambino e uno Sheldon nello spettacolo, quindi non so se abbiamo bisogno di altri bambini in questo momento.