La fine di Teen Wolf non ha spezzato solo i cuori dei fan, ma anche quello degli attori. Più volte infatti i nostri protagonisti del cuore hanno dichiarato il loro dispiacere per la fine di questa avventura. E seppure siano passate settimane dalla messa in onda del series finale, lo show fa ancora tanto parlare di sé. L'ultima pietra dello scandalo sono sicuramente le parole che Tyler Posey (Scott nella Serie) si è lasciato scappare durante la convention Wolfies in Paris, tenutasi il 21 e il 22 ottobre scorsi.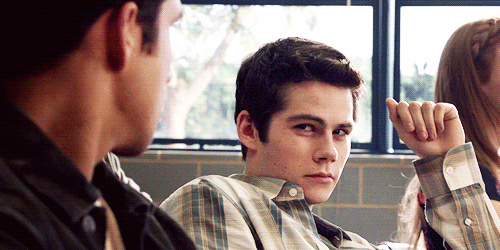 Su un possibile spin-off si erano già pronunciati lo stesso showrunner, Jeff  Davis, e l'amatissima Crystal Reed (qui trovate le parole dell'attrice); ma ora è il protagonista a prendere in mano il microfono e a fare le sue dichiarazioni. E che dichiarazioni!
Nel corso del suo intervento alla convention parigina, Tyler Posey ha scherzato con i fan citando le diversissime voci sul possibile futuro di Teen Wolf, che ci hanno fatto rischiare l'infarto in queste settimane. Tra gossip su reboot, podcast e spin-off, Tyler ci ha rivelato un vecchio progetto riguardo un possibile spin-off sulla vita del giovane Derek Hale. Se all'epoca il progetto è stato poi messo da parte, ora l'idea potrebbe essere utilizzata per uno dei futuri podcast su Teen Wolf. Ma la vera bomba è stata sganciata dall'attore nel corso dell'intervista.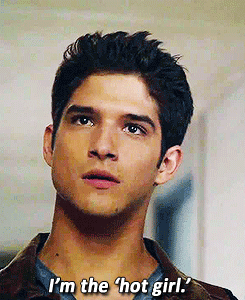 Quando i fan hanno chiesto all'attore se fosse disponibile a tornare sul set di Teen Wolf in caso si concretizzasse l'idea di uno spin-off, Tyler Posey non ci ha pensato due volte a rispondere con tutto il suo entusiasmo:
I wanna be part of it!
Ha dichiarato l'attore con sicurezza, senza mostrare il minimo dubbio. E se già le sue poche ma fondamentali parole sono state capaci di mandarci in un brodo di giuggiole, il tutto si fa ancora più interessante se questa sua dichiarazione si associa al selfie (e alla sua descrizione) che ha fatto il giro dell'internet lo scorso 25 settembre.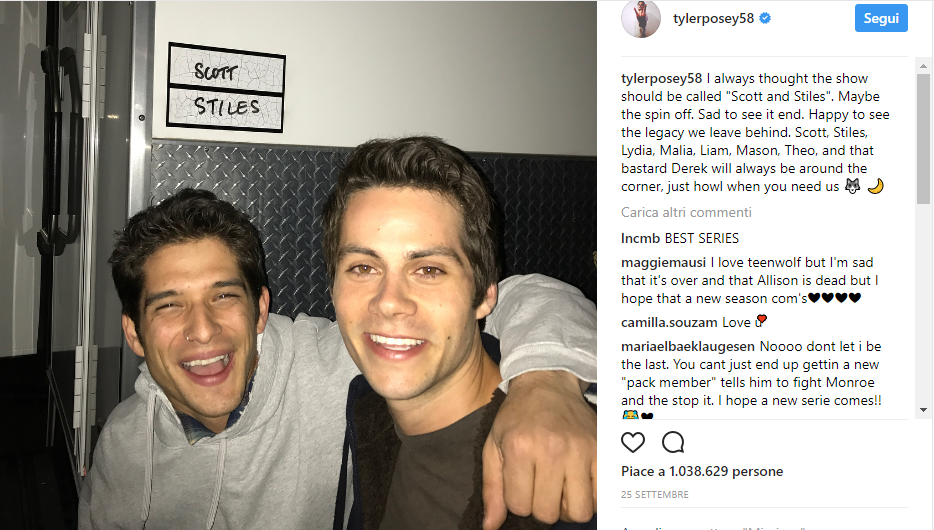 A colpire i fan non è solo l'enorme tenerezza custodita nelle parole dell'attore, ma anche tutti i possibili significati nascosti.
Ho sempre pensato che lo show si sarebbe dovuto chiamare "Scott e Stiles". Magari lo spin-off. E triste constatare che è tutto finito. È bello vedere l'eredità che ci lasciamo alle spalle. Scott, Stiles, Lydia, Malia, Liam, Mason, Theo e quel bastardo di Derek saranno sempre dietro l'angolo, perciò ululate quando avrete bisogno di noi
Certo, né Jeff Davis né MTV hanno ancora dato una conferma ufficiale, eppure c'è un dettaglio nelle parole di Tyler che proprio non può non farci sognare: quel piccolo e all'apparenza insignificante the. Non a, non se forse faremo uno spin-off; ma forse LO spin-off. Solo io ci vedo un grado di certezza in più?
Certo, magari è solo una leggera svista, in fondo quanti di noi si mantengono  sempre e comunque dei grammar-nazi nell'aggiornare i propri social? Eppure quel the non può che farci sognare. E infondo che male c'è nel continuare a sperare?