GAME OF THRONES: ERA STATA GIRATA UNA SCENA CON LA CORSA DI ARYA MA È STATA TAGLIATA
Questa settimana abbiamo scoperto che i produttori di Game of Thrones, in fase di montaggio, hanno deciso di tagliare il tragitto fatto da Arya per uccidere il Re della Notte.

Il regista del terzo episodio, Miguel Sapochnik, ha rivelato in proposito:
Ho messo in discussione tutto e abbiamo lavorato a lungo e duramente per trovare il giusto equilibrio tra credibilità e realizzazione. Quindi abbiamo girato e ripreso e abbiamo scoperto che ciò che era veramente importante era il ritmo. A un certo punto c'era un piano elaborato per farla combattere facendosi strada nel Parco degli Dei, ma man mano che avanzavamo ci siamo resi conto che l'aveva già fatto prima nell'episodio, quindi tutto ciò sembrava una ripetizione. Alla fine abbiamo pensato che non importava come fosse arrivata lì – ciò che contava era il momento in cui attacca il Re della Notte.
(potete trovare qui maggiori informazioni).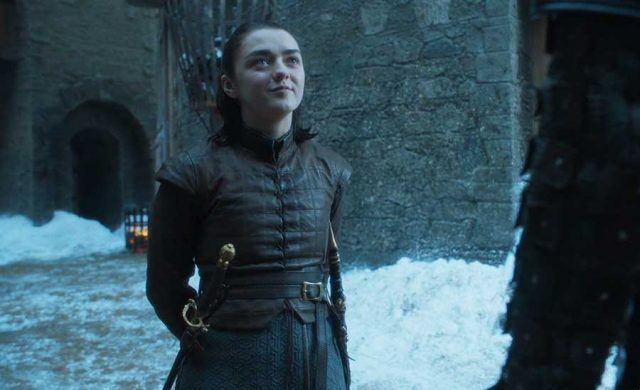 LA MARVEL NON SI ASPETTAVA LE CANCELLAZIONI DA PARTE DI NETFLIX
Il motivo per cui Netflix ha cancellato tutte le serie Marvel non è mai stato del tutto chiaro. Si è pensato che, oltre al calo di visualizzazioni, la fine della produzione sia stata legata all'ingresso in scena di Disney+.
Questa settimana però il vice presidente esecutivo della Marvel Television, Jeph Loeb, ha dichiarato:
La parte più difficile è stata la situazione con Netflix, di cui non posso dire molto se non che ci ha colto del tutto alla sprovvista e che ciò che doveva accadere non era ancora stato compiuto. Non eravamo pronti a quell'annuncio, e c'è stato quel momento in cui sembrava che saremmo davvero usciti di scena. Poi, all'improvviso, sorgevamo di nuovo come la Fenice
(potete trovare qui maggiori informazioni).