Il settimo episodio della seconda stagione di Mayans M.C. si è concluso con una sorprendente apparizione che ha sconvolto tutti i fan di Sons of Anarchy.
[ATTENZIONE SPOILER]
Chibs è infatti tornato in tutto il suo splendore a rappresentare i Sons of Anarchy proprio alla fine dell'episodio, lasciando intendere la sua partecipazione all'ottavo.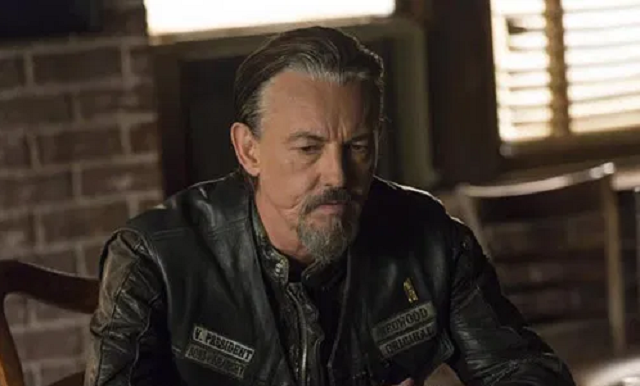 Ed è infatti così, coma abbiamo potuto ben vedere nel teaser del prossimo episodio rilasciato in queste ore.
Filip "Chibs" Telford, interpretato magistralmente da Tommy Flanagan, compare per pochi secondi nel breve trailer nelle vesti del presidente dei SAMCRO. Al suo fianco Happy (David Labrava), Allesandro Montez (Jacob Vargas) e Rane Quinn (Rusty Coones).

A vederli così, tutti insieme con le loro giacche di cuoio e la scritta Redwood Originals, sembra che non siano passati che pochi giorni, e non 5 anni, dal finale di stagione di Sons of Anarchy.
Non si sa molto su cosa aspettarci adesso che Chibs è tornato, né se sarà presente solo per questo episodio o se ci sarà uno sviluppo concreto. La seconda stagione di Mayans M.C. è stata particolarmente ricca di flashback e questa piega che ha preso la stagione potrebbe far ben sperare.
Mayans M.C. ha esordito con ottimi ascolti ma la seconda stagione non sta riscontrando lo stesso clamoroso successo della serie madre e forse, con questa strizzata d'occhio ai fan storici, potrebbero accaparrarsi una maggiore fetta di pubblico.
E, a questo punto, un ritorno di Jax Teller non sarebbe poi così inverosimile.
Sembra inoltre che il creatore delle due serie, Kurt Sutter, abbia intenzione di lasciare il timone di Mayans M.C. a Elgin James, che collabora con lui dalla prima stagione.
L'ottavo episodio andrà in onda martedì prossimo negli Stati Uniti su FX.