Manolo Blahnik tacco dodici ai piedi, abito firmato (dallo stilista che più vi piace) ed adatto per un aperitivo nella Grande Mela (nel dubbio ripassatevi un po' il dress code) e ovviamente un Cosmopolitan.
In alto i calici signori e signore, abbiamo un brindisi da fare! Carrie Bradshaw, Miranda Hobbes, Samantha Jones e Charlotte York sono pronte per il loro grande ritorno!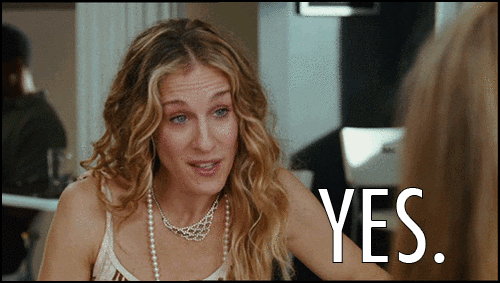 Le quattro amiche più chic della tv, protagoniste della serie Sex and the City, stanno per tornare alla carica per le strade di New York. Sarah Jessica Parker, Cynthia Nixon, Kristin Davis e Kim Cattrall hanno firmato, dopo una lunga fase di contrattazione, per una nuova reunion.
"Le attrici hanno ufficialmente firmato per il terzo film di Sex and the City e la sceneggiatura è stata approvata da tutte le protagoniste" annuncia il sito RadarOnline. Questo nuovo progetto non era stato inizialmente approvato dall'attrice Sarah Jessica Parker, non molto convinta della sceneggiatura del nuovo film.
"C'è stato un lungo tira e molla tra l'attrice e la produzione. Sarah Jessica Parker inizialmente non era a favore della reunion perché non le piaceva l'idea che questi personaggi fossero mostrati sotto una luce più matura" spiega una misteriosa fonte a RadarOnline.
La Parker è stata ad un passo dal non firmare il contratto e la produzione, pur di non perdere l'amatissima Carrie Bradshaw, è scesa a compromessi con l'attrice. Dopo interminabili trattative e molti cambi nel copione, anche la Parker ha dato il suo ok per il terzo film di Sex and the City.
Ancora non si conosce per esteso la trama di questo terzo capitolo cinematografico, ma esiste una storia che il regista Michael Patrick King teneva in cantiere già da un anno. L'inizio delle riprese è slittato alla prossima estate, per via dei numerosi impegni della Parker che la tengono occupata sul set della seconda stagione di Divorce.
In attesa del seguito di Sex and the City, non ci rimane che ordinare un bel Cosmopolitan! Cin cin!