Le serie tv iniziano, purtroppo finiscono ma la peggiore cosa che può capitare è che vengano cancellate. È il caso di queste 13 serie che vi riportiamo qui oggi. Alcune le avete sentite nominare, altre, invece, molto probabilmente facevano parte della vostra top 10 di serie preferite, e ancora altre magari non le conoscevate affatto. Anche se non è ancora il tempo per i bilanci delle reti americane questo non significa che le serie tv siano al sicuro, anzi.
Ecco a voi le 13 serie tv cancellate negli ultimi mesi:
Friends from College
Friends From College non tornerà per una terza stagione. La notizia arriva direttamente dal co-creatore Nicholas Stoller che tramite un post su Twutter ha annunciato la notizia. Netflix ha rilasciato una dichiarazione in merito alla notizia aggiungendo: «Siamo grati ai creatori Nick Stoller e Francesca Delbanco per aver creato uno show saggio, divertente e sommamente riconoscibile. Vogliamo anche ringraziare la troupe che lavora sodo, e alziamo un calice al cast di grande talento che include Keegan-Michael Key, Fred Savage, Cobie Smulders, Nat Faxon, Annie Parisse, Jae Suh Park e Billy Eichner.»
The Punisher e Jessica Jones
Sfortunatamente, negli ultimi mesi è diventato chiaro che la partnership tra Marvel e Netflix stesse volgendo al termine, dal momento che il gigante dello streaming ha iniziato a cancellare le serie che hanno dato vita al sodalizio. Ecco parte del comunicato che è stato pubblicato qualche giorno fa: «Quindi grazie! A nome di tutti noi della Marvel Television, non potremmo essere più orgogliosi o più grati al nostro pubblico. Il nostro partner della rete potrebbe aver deciso di non voler più continuare a raccontare le storie di questi grandi personaggi. Come disse una volta papà di Matthew Murdock, "La misura di un uomo non è il modo in cui viene buttato sul tappeto, è il modo in cui si rialza."»
The First
Scritto da Willimon con Jordan Tappis, The First ha seguito la prima missione umana su Marte, esplorando le sfide dei primi passi verso la colonizzazione interplanetaria. La storia si è concentrata non solo sugli astronauti ma anche sulle loro famiglie e persone care. Oltra a Sean Penn hanno recitato in questa serie tv anche Natasha McElhone, LisaGay Hamilton, Keiko Agena e Hannah Ware. The First non va oltre la prima stagione.
Travelers
Non ci sarà la quarta stagione per Travelers. Netflix ha cancellato la serie di fantascienza dopo tre stagioni. La star Eric McCormack ha rivelato la notizia tramite i social. Creato da Brad Wright e interpretato da McCormack, Travellers è ambientato tra centinaia di anni da quando gli ultimi umani sopravvissuti scopriranno il modo di inviare la coscienza indietro nel tempo, direttamente nelle persone del 21° secolo. Questi "viaggiatori" assumono la vita di persone apparentemente casuali, mentre lavorano segretamente come squadre per svolgere missioni al fine di salvare l'umanità da un futuro terribile.
Stan Against Evil
È stata proprio la creatrice della serie Dana Gould sul suo podcast ad annunciare che la serie comica dell'orrore Stan Against Evil è stata cancellata dopo tre stagioni. «Stan Against Evil, sono triste da segnalare, non tornerà per una quarta stagione», ha detto Gould. «Ha avuto una bella serie di tre stagioni. Si presenterà in qualche altra forma su qualche altra rete un giorno? Può essere. Ma in questo momento, come ci piace dire, è morto come i noccioli di Kelsey.»
Channel Zero
Non ci sarà la quinta stagione della fortunata serie di antologie horror di Nick Antosca, Channel Zero. In precedenza, Syfy aveva ordinato una terza e quarta puntata dell'antologia prima della sua seconda stagione. Antosca è stato produttore esecutivo, showrunner e scrittore su Channel Zero. Prima ha annunciato la cancellazione su Instagram e Syfy ha confermato. Ha continuato a ringraziare gli scrittori, gli attori, la troupe dello spettacolo.
Nightflyers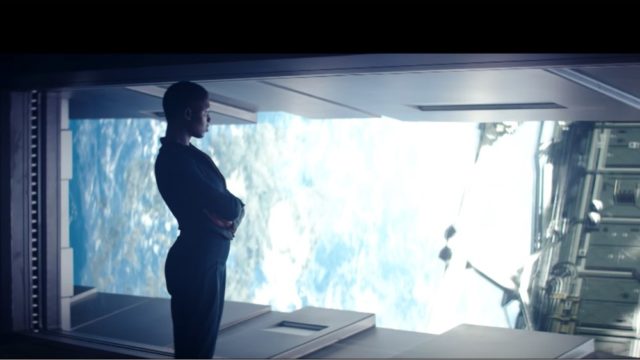 Syfy ha deciso di non rinnovare Nightflyers per una seconda stagione. Un rappresentante della rete ha confermato a Deadline che Syfy non avrebbe raccolto ulteriori episodi della serie basata sul romanzo di George R.R. Martin. Nighflyers ha debuttato a dicembre, con tutti e 10 gli episodi. Ambientato nell'anno 2093, Nightflyers, basato sulla novella di Martin, seguì una squadra di scienziati a bordo di The Nightflyer, la nave più avanzata mai costruita, mentre intraprendono un viaggio per trovare altre forme di vita.
Tra le altre serie cancellate ricordiamo: Z Nation, Midnight Texas, Marlon, One Dollar, Detroiters.