Così come i loro personaggi Betty e Jughead in Riverdale, anche Cole Sprouse e Lili Reinhart stanno intraprendendo una storia d'amore fuori dal set. Non siamo nuovi a questo tipo di storie, al vertice Kit Harington e Rose Leslie di Game of Thrones. I due infatti convoleranno a nozze molto presto, avendo dato l'ufficialità sul The Times. Dopo essersi conosciuti sul set, lo stesso Harington ha affermato che ci sono volute pochissime scene per innamorarsi della sua Rose.
Cole e Lili, invece, si sono conosciuti sul set di Riverdale giunto alla seconda stagione. I due si sono presi un periodo di vacanza alle Hawaii lontani da tutto e tutti, ma qualcuno li ha trovati e fotografati insieme. Seppur con un gruppo di amici, Cole e Lili sono stati avvistati sulla spiaggia, durante una passeggiata, camminare abbracciati in solitudine. Non possiamo dire la stessa cosa di Betty e Jughead, la loro storia non sta andando poi così bene; come invece pare andare quella tra i giovani protagonisti.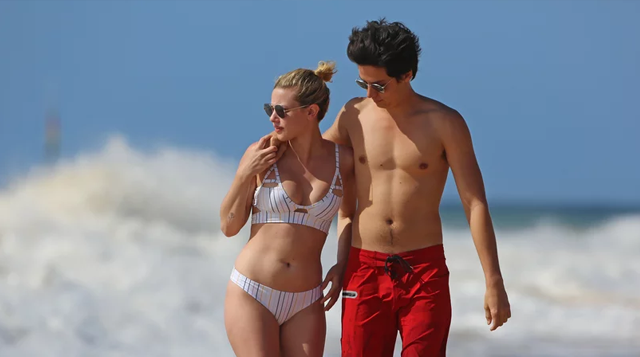 Manca tuttora la foto di un bel bacio appassionato tra i due, ma nessuno ha smentito queste voci che vanno avanti da un molto tempo. Un pò come Si tratta di Natalia Dyer (Nancy) e Charlie Heaton (Jonathan) di Stranger Things, un altro esempio di coppia nata sul set. Qualche settimana fa vi avevamo annunciato la loro relazione, dopo la conseguente pubblicazione di foto che li ritraevano mano nella mano. I due ultimamente sono stati avvistati in Italia, a Roma.
Insomma, il mondo delle Serie Tv è un mondo magico e questo noi lo sappiamo bene. Sogniamo ad occhi aperti che le nostre ship diventino realtà e qualche volta come in questi casi accade veramente. Non ci resta che augurare a Cole e Lili tanta felicità (sperando che le cose si risolvano anche per Jughead e Betty).