Raven-Symonè ha avuto un'altra visione e pare che renderà felici molti telespettatori nostalgici: That's so Raven sta per tornare!
La comedy andata in onda dal 2003 al 2007 tornerà presto su Disney Channel per la gioia di molti fan accaniti e ormai cresciutelli; tratterà ancora delle vicende di Raven Baxter, la giovane ed eccentrica ragazza ditata di poteri piuttosto singolari: sa prevedere il futuro.
Oggi, Raven è una madre single con due bambini e a quanto pare anche la piccola di casa ha ereditato questa sua grande fortuna.
Ancora non è chiaro se si tratterà di un sequel, quindi incentrato sulle vicende della figlioletta, oppure di uno spin-off con la presenta anche dei vecchi interpreti come gli amici di sempre Orlando Brown (Eddie Thomas), Anneliese Van Del Pol (Chelsea Daniel) e Kyle Massey nel ruolo del fratello Cory, che ha avuto una serie tutta sua, Cory alla Casa Bianca trasmessa sempre su Disney Channel dal 2007 al 2008.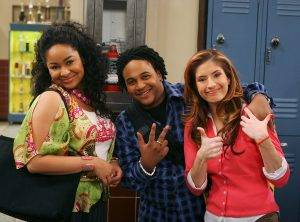 L'attrice, che sarà anche produttrice dello show, ha annunciato questa grande notizia durante il programma The View, ecco le sue parole,  che molti fan attendevano:
"Sono emozionata. Ho un annuncio da fare – no, non sono incinta. Come avrete notato sono stata qui [a The View] solo di venerdì. Questo perché ho lavorato con la Disney dall'interno e ho una grande sorpresa per voi. Non so se avete mai visto la serie ma una volta ero la protagonista di Raven e…stiamo lavorando ad un sequel. Una specie – non c'è ancora un titolo ma io lo chiamo Raven 2."
Ebbene sì, non c'è ancora un titolo e non si sa nemmeno se ci saranno nuovi attori nel cast e, come abbiamo già detto, chi tornerà tra i veterani.
Insomma, molti quesiti devono ancora trovare una risposta, ma lo show si farà e questo basta e avanza per essere al settimo cielo!