Hulu ha dato il via alla produzione di una nuova serie tv comedy che vede come suo protagonista la star di New Girl Lamorne Morris. Lo streamer aveva ordinato un episodio pilota nel novembre 2018 e sembra che sia piaciuto abbastanza da produrre un'intera stagione. La serie mescola live-action e animazione ed è ispirata alla vita e all'arte del vignettista Keith Knight. Pluripremiato autore di fumetti, il suo lavoro include la creazione di strisce autobiografiche come The K Chronicles o The Knight Life trattando spesso di argomenti attuali, inclusi razzismo e politica.

La trama ruota intorno alle vicende di Keef – interpretato da Morris – un fumettista afroamericano di San Francisco che finalmente è riuscito a raggiungere il successo sperato. Ma la sua fortuna sembra essere di breve durata e tutto è destinato a cambiare quando viene coinvolto in un inaspettato incidente con la polizia.
Ed è a questo punto che Keef entra in uno stato irreversibile di risveglio.
Il protagonista dovrà fronteggiare le difficoltà della vita e navigare nella sua esistenza quotidiana senza mandare a rotoli tutto quello che ha costruito in anni di duro lavoro… mentre gli oggetti e i personaggi animati delle sue creazioni invadono la sua realtà!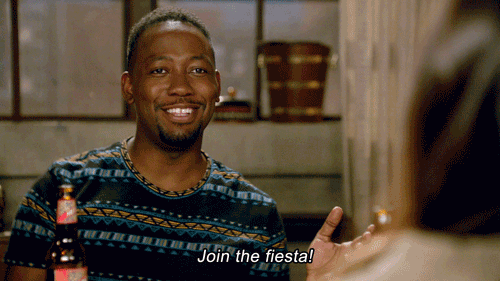 Lamorne Morris ha recitato nel film Game Night e ha interpretato Winston Bishop nella serie tv New Girl per sette anni. Un personaggio strambo, con indosso sempre maglie bizzarre e camicie con uccelli multicolori e amante dei gatti. Anche in New Girl, Winston dava l'impressione di vivere in un modo interamente suo e di vedere le cose sempre con un occhio diverso da quello degli altri personaggi. E i fan non potevano non amarlo esattamente per questo suo modo di vedere il mondo come una grande tavolozza di colori e di opportunità. Insomma, il ruolo di un fumettista visionario, in lotta per l'uguaglianza razziale e politica e che si trova circondato da cartoni animati sembra calzargli a pennello!
Il cast della nuova comedy comprende anche Blake Anderson, Lara Goldie, Brandi Alexander e Sasheer Zamata. Mentre la sceneggiatura è scritta dallo stesso Knight in collaborazione con Marshall Todd. La piattaforma Hulu non si è ancora espressa in merito alle riprese, né confermando né sconfermando la produzione di Woke.
Ma la conferma è arrivata dall'account ufficiale dell'attore che esprimeva la sua gioia nel condividere la notizia della produzione di Woke. E ha aggiunto che se mai avesse ottenuto il ruolo di protagonista in una serie tv si sarebbe fatto un tatuaggio! Suggerimenti?