È risaputo ormai che prossimamente vedremo sul nostro catalogo Netflix alcune serie televisive create e prodotte dal celebre Ryan Murphy, nate da un accordo stellare fra il produttore e la piattaforma streaming nei mesi scorsi (qui potete leggere l'articolo per i dettagli).
Negli ultimi venti anni, Murphy ha creato numerosi show acclamati dalla critica e dai telespettatori. Una delle serie televisive più famose del produttore è Nip/Tuck andata in onda sull'emittente FX.
In questi giorni non solo è stato svelato il poster ufficiale, ma anche la data del primo show che verrà rilasciato sulla piattaforma Netflix: stiamo parlando di The Politician,ideato in collaborazione con due suoi colleghi storici, Brad Falchuk e Ian Brennan.
All'interno della serie televisiva vedremo un cast eccezionale: Ben Platt, Zoey Deutch, Lucy Boynton, Jessica Lange e Gwyneth Paltrow.
Questa serie tv, dalle sfumature comiche, presenta Platt nei panni del personaggio protagonista Payton Hobart, un ricco abitante di Santa Barbara con aspirazioni politiche.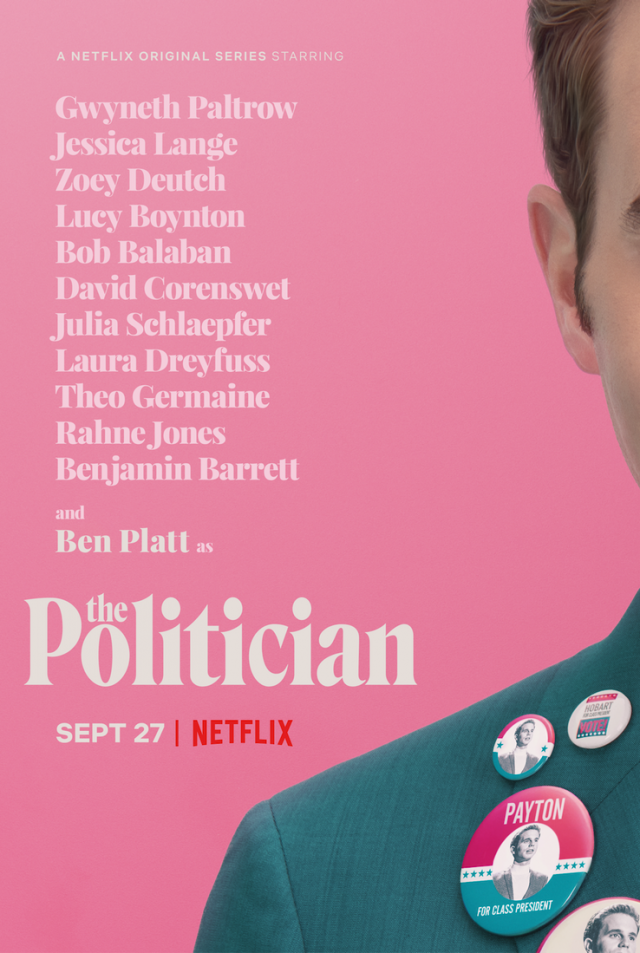 The Politician sbarcherà ufficialmente su Netflix il 27 settembre.
Sembrerebbe che l'intenzione della piattaforma streaming sia quella di ampliare il proprio catalogo di show dal genere comico; la serie creata da Murphy si andrebbe ad aggiungere, infatti, ad altre serie televisive di successo come: Grace and Frankie, Unbreakable Kimmy Schmidt, Sex Education, Maniac.
Attualmente su Netflix è presente un'altra serie televisiva creata e prodotta da Murphy, ovvero Pose. Lo show, che ha debuttato precedentemente su FX, ha ben presto fatto innamorare numerosi telespettatori. Inoltre, lo stesso produttore, ha dichiarato che è una delle serie che gli sta più a cuore: difatti ricopre un periodo di tempo che lo stesso Murphy ha vissuto e di cui è stato protagonista quando è arrivato per la prima volta nella Grande Mela, nel 1987.