La piattaforma streaming Netflix potrebbe aver rivelato la data di uscita per il loro prossimo adattamento: The Witcher. La tentacolare saga fantasy è arrivata per la prima volta alla ribalta come set di romanzi e racconti dell'autore polacco Andrzej Sapkowski. Da allora sono stati adattati in un film, una serie di graphic novel e, in particolare, un franchise di videogiochi estremamente popolare. Presto sarà visto anche sul piccolo schermo, grazie a Netflix che ha ordinato l'adattamento come serie televisiva all'inizio dello scorso anno.
All'inizio di questa estate, in concomitanza con il San Diego Comic-Con, è stato svelato il primo trailer ufficiale della serie tv. Adesso Netflix avrebbe svelato tramite tweet (ormai cancellato) la possibile data di debutto.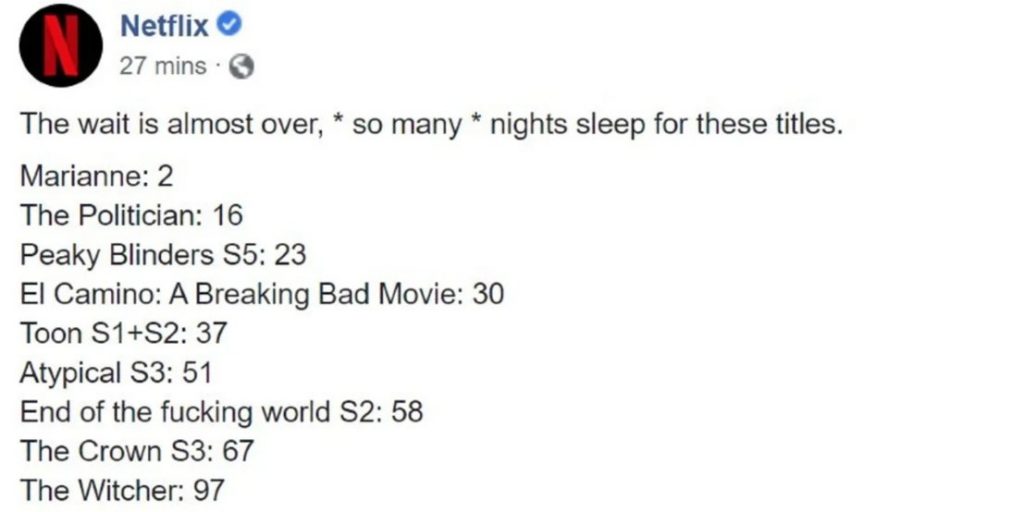 Nella lista accanto al nome The Witcher compaiono i giorni di attesa per la sua visione: 97. Questo andrebbe a significare che la piattaforma potrebbe rilasciare lo show il 17 dicembre di quest'anno.
La lista includeva anche un conto alla rovescia per altri show che devono ritornare come Atypical e il sontuoso dramma storico The Crown, che subirà alcuni importanti cambiamenti nel casting nella terza stagione. Netflix ha anche continuato ad alimentare l'hype per El Camino: A Breaking Bad Movie, che finalmente rivelerà il destino di Jesse Pinkman dopo il finale della serie madre. Per non parlare, inoltre, del primo progetto di Ryan Murphy per il servizio streaming, The Politician. Non visto nella lista sopra, Netflix ha anche rivelato che la seconda stagione di You arriverà fra 110 giorni (31 dicembre).
Con già confermato che lo show sarà basato più sui romanzi che sui videogiochi, c'è ogni possibilità che possa raggiungere un grande successo. In ogni caso, i fan della saga saranno senza dubbio entusiasti del fatto che finalmente – salvo un cambiamento di cuore da parte di Netflix o del team creativo di The Witcher, hanno una data ufficiale da segnare sui loro calendari.