La CBS è ormai considerata sede delle migliori serie tv comedy del momento, nonostante si troverà tra non molto a dire addio a quella che possiamo considerare la comedy di punta degli ultimi anni: The Big Bang Theory, che saluterà i fan con la fine della dodicesima stagione.
Lo stesso destino potrebbe purtroppo spettare a Mom, a causa di un imprevisto contrattuale.
Problema che ha coinvolto la troupe della serie in uno dei momenti migliori, coronato dalle dichiarazioni di Kelly Kahl, presidente di CBS Entertainment:
Mom è stata per noi una comedy importante negli ultimi anni. Si tratta di una serie senza paura che affronta tematiche sociali importanti con risate e grazia, e il pubblico fedele ha continuato a seguirla. Con delle star di talento come Anna e Allison alla guida di un grandioso cast, e un team della produzione guidato da Chuck Lorre, Eddie Gorodetsky, Nick Bakay e Gemma Baker, questa serie sta continuando a migliorare.
Il problema riscontrato risiederebbe nelle condizioni contrattuali delle due attrici protagoniste di Mom: Anna Faris (che nella serie interpreta Christy) e Allison Janney (che interpreta Bonnie), che allo stato attuale guadagnano meno di 200.000$ per episodio, cifra nettamente inferiore rispetto al milione guadagnato dai colleghi di The Big Bang Theory.
Il loro contratto, dalla validità di sei stagioni, è in scadenza.
Sebbene l'idea iniziale fosse quella di concludere la serie dopo le sei stagioni concordate, i dirigenti della CBS hanno espressamente dichiarato la volontà di procedere con almeno un'altra stagione, utile a concludere nel miglior modo possibile.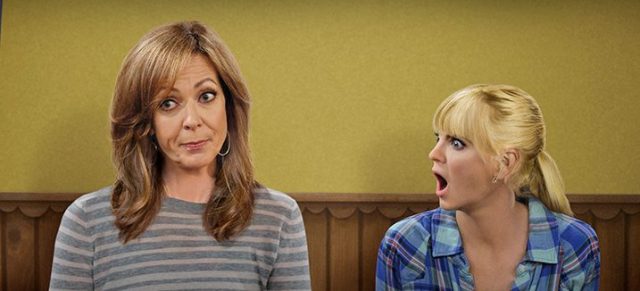 Questo avrebbe portato le due attrici ad accordarsi per chiedere un sostanzioso aumento del compenso, mettendo alle strette la produzione che si troverà ad affrontare un problema che, allo stato attuale, tiene bloccata ogni possibilità di rinnovo della serie Mom per una settima stagione.
I costi per far fronte alle esigenze di una settima stagione sono ingenti, ma la volontà di prolungare Mom oltre la sesta stagione pare altrettanto alta.