Sabrina Spellman sta per tornare sul piccolo schermo, con un nuovo look dark. Ma a portarla in vita per prima è stata l'attrice Melissa Joan Hart nella Serie Tv Sabrina Vita da Strega, che per molto tempo ci ha tenuto compagnia nei pomeriggi della nostra infanzia.
La nuova Serie Tv con protagonista Sabrina Spellman, ora senza titolo e precedentemente conosciuta come The Chilling Adventures of Sabrina, avrà toni oscuri, con elementi dell'horror e della stregoneria. Sabrina dovrà imparare a bilanciare la sua doppia natura di metà strega e metà umana e combattere le forze del male che la minacciano.
La Serie Tv andrà in onda su Netflix, che ne ha già ordinato 2 stagioni da 10 episodi.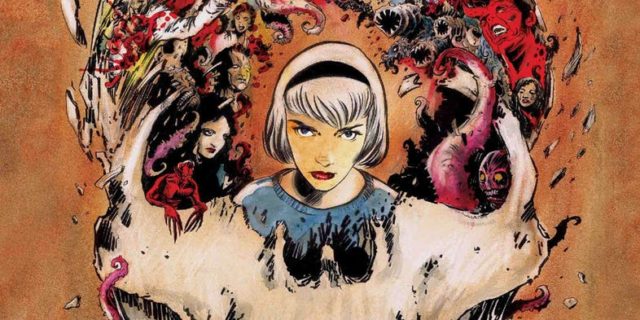 A Melissa Joan Hart, l'attrice che per sette stagioni ha interpretato Sabrina in Tv, è stato chiesto durante un'intervista cosa ne pensasse di questo nuovo progetto. L'attrice ha così risposto:
"Mi è indifferente, sinceramente. Le persone continuavano a chiedere questa serie, e poi c'è anche Riverdale, quindi penso che abbia senso farla.

Penso che stiano facendo tutto in modo intelligente – cambiando il tono, non facendolo allo stesso modo. Se fai la stessa serie, alla fine non regge, ma io penso che quello che stanno facendo è il modo migliore per riportare in vita un personaggio e una Serie Tv già andati in onda".
Inoltre, la Hart ha affermato che non è contraria ad apparire in uno degli episodi di questo progetto o a dirigerlo da dietro le quinte:
"Mai dire mai. Dipende da che personaggio dovrei interpretare. Non so come potrei inserirmi. Ma in ogni caso, se mi mandassero del materiale, lo guarderei volentieri".
Sabrina Spellman sarà interpretata nel nuovo progetto di Netflix da Kiernan Shipka, che ha lavorato in Mad Men. Non si sa ancora quando potremo vedere questa nuova Serie Tv.
Leggi anche – Melissa Joan Hart e gli altri attori di Sabrina Vita Da Strega: che fine hanno fatto?