Netflix ha rilasciato il trailer della seconda stagione di Master of None, la Serie ideata e interpretata dal comico Aziz Ansari, in onda sulla piattaforma streaming dal 12 Maggio.
Master of None racconta la vita di Dev (Aziz Ansari), figlio di immigrati indiani che cerca di sfondare come attore nella frenetica New York.
Quello che rende Master of None una Serie di successo a cui affezionarsi facilmente è la sua incredibile normalità raccontata con una sana dose di umorismo. I problemi sentimentali di Dev o la difficoltà nel trovare un lavoro sono temi che riguardano, chi più chi meno, tutti i giovani (in questo caso americani) che ritrovatisi alla soglia dei trent'anni non sanno che senso dare alla propria vita.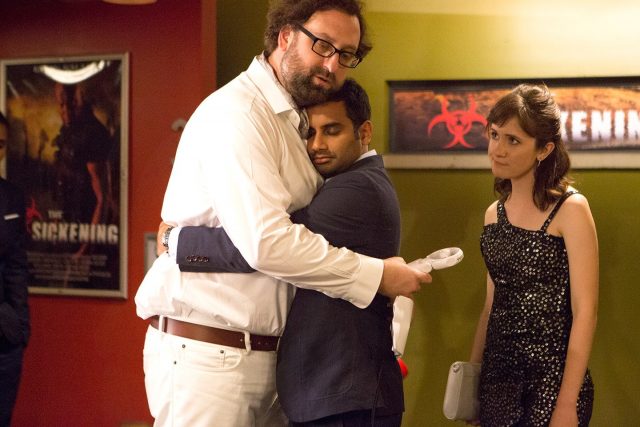 Sposarsi con l'attuale compagna solo perché si ha 30 anni? O lanciarsi a capofitto nella carriera dopo una cocente delusione? Sono queste le domande che Dev si pone nel finale della prima stagione di Master of None. L'unica risposta che sembra trovare è fuggire dai suoi problemi andando in Italia, rivoluzionando così la sua vita, per seguire una scuola di cucina e imparare a fare la pasta che tanto ama.
Nella seconda stagione vedremo quindi Dev tornare a casa alla fine di un viaggio che lo ha portato in giro per l'Europa. Dopo aver ripreso possesso della sua vita a New York, affronterà i problemi da cui era fuggito.
Tra le altre, è proprio l'Italia una delle location più usate in questo viaggio del protagonista alla scoperta di se stesso. Molte delle parti della seconda stagione di Master of None sono state girate tra Modena, Bologna e i suggestivi borghi tra le colline senesi.
Ecco il trailer della seconda stagione di Master of None
Nel trailer è presente anche Alessandra Mastronardi che interpreta la nuova fugace fiamma italiana di Dev insieme ad altre guest star eccellenti come John Legend, Bobby Cannavale e Angela Bassett.