Don Draper di Mad Men una volta ha detto: "Vuoi rispetto? Vai a prendertelo da solo". E l'ex star della serie Elisabeth Moss che ha interpretato la segretaria di Draper, Peggy Olson, sembra aver preso a cuore queste parole. Jon Hamm ha interpretato Don Draper per sette stagioni e si è riunito con la Moss agli Independent Spirit Awards di sabato, dove l'attrice è stata nominata per il suo lavoro in Her Smell.
Nel film, la Moss ritrae la rockstar Becky Something, il cui comportamento autodistruttivo causa la rottura e l'eventuale scioglimento del suo gruppo Something She. E, anche se non si è portata a casa il primo premio, la Moss sorrideva da un orecchio all'altro, felice per questa reunion con il suo vecchio boss.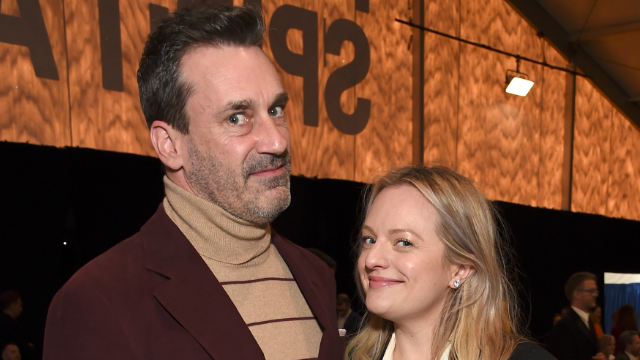 La carriera di Elisabeth Moss, però, non si ferma certo a Mad Men. L'attrice ha ricevuto molti consensi per i suoi progetti tra cui un Prime Time Emmy Award nel 2017 come migliore attrice della serie drammatica The Handmaid's Tale. Il prossimo ruolo della protagonista è un ruolo in Shirley di Josephine Decker, dove darà vita all'autrice americana Shirley Jackson.
Anche la carriera di Jon Hamm è stata ed è radiosa e in questo 2020 i suoi progetti imminenti sono: The Jesus Rolls e Top Gun: Maverick.
Mad Men è stata una serie incredibilmente intricata e dettagliata con un cast d'eccellenza lungo tutte le sette stagioni. Quando uno show è amato quanto lo era Mad Men, terminare le cose per soddisfare tutti e rendere felici i fan era un compito impossibile. Il finale della serie è tutt'ora molto chiacchierato anche se la maggior parte concorda con il fatto che quell'ultimo frame sia perfetto per Mad Men e qualsiasi reboot sarebbe veramente superfluo perché è un capolavoro già così.