Dopo l'uscita di scena di Franz Drameh e Victor Garber (rispettivamente Jackson ed il professore Stein), tutti si chiedevano chi avrebbe preso il loro posto in Legends of Tomorrow.
Finalmente abbiamo delle risposte!
A bordo del Waverider salirà proprio Wally West aka Kid Flash, interpretato dall'attore Keiynan Lonsdale. Nel corso di questa quarta stagione, il personaggio di Lonsdale aveva evidenti difficoltà a trovare il suo posto all'interno del team.
Sorprendentemente, Wally West non ritornerà nella Serie in cui militava prima di fare il passaggio definitivo in Legends of Tomorrow; bensì, lo vedremo direttamente con i nostri viliganti nella tredicesima puntata.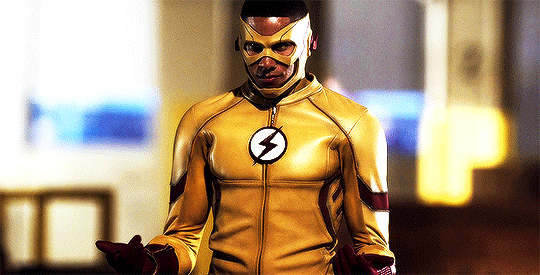 Phil Klemmer, produttore esecutivo di Legends of Tomorrow, ha commentato questa decisione con una dichiarazione:
Abbiamo lavorato con Keiynan nella prima puntata della nuova stagione – l'episodio in cui abbiamo appreso, che tra la seconda e terza stagione, lui ha combattuto il crimine con Nate Heywood (Nick Zano). Perciò, quando il suo personaggio si è allontanato da The Flash, sentendosi in qualche modo "estraniato" dalla famiglia e dal suo team, sapevamo che Wally sarebbe stato perfetto per le Leggende. Dopotutto, il nostro Show parla di una serie di improbabili eroi, che hanno iniziato quest'avventura, mettendo in discussione chi sono e dove appartengono. Così ora, Wally non solo è tornato in compagnia di vecchi amici dell'Arrowverse, ma combatterà a fianco di un ex nemico, Mick Rory (Dominick Purcell). Entro la fine di questa stagione, Wally apprenderà che le Leggende hanno una definizione tutta loro, di cosa vuol essere un eroe.
Lonsdale è stato inserito come series regular, ragion per cui, probabilmente, la sua permanenza in Legends of Tomorrow non sarà limitata a solo questa stagione.
La Serie Televisiva ritornerà regolarmente con la sua terza stagione il 12 febbraio, occupando lo slot – al momento vacante – di Supergirl.
Siete contenti di questa decisione? O preferivate qualcun altro dall'Arrowverse per il team del Waverider capitanato da Sarah Lance?