La presenza dell'attore Matt Ryan, nei panni di John Constantine in Legends Of Tomorrow era già stata annunciata diversi mesi fa; un ritorno avvenuto questa settimana, in occasione del decimo episodio della terza stagione della Serie Tv.
Quello che si sono domandati però gli appassionati è: tornerà ancora il nostro cacciatore di demoni preferito?
Gli indizi indicano che, senz'ombra di dubbio, rivedremo Constantine in un'ulteriore puntata di Legends Of Tomorrow. Uno di questi indizi, è una foto pubblicata su Instagram dall'attore Nick Zano, dove nello sfondo si può notare la presenza di Matt Ryan nel tradizionale cappotto di Constantine: nella didascalia, Zano afferma di essere in procinto di girare l'episodio finale della stagione. La Warner Bros. ha confermato la presenza del cacciatore di demoni per la puntata intitolata Necromancing the Stone (la numero quindici, che debutterà il 19 marzo), glissando tuttavia se lo rivedremo nel finale di stagione.
Non sarebbe comunque bizzarra l'idea di avere Constantine nell'episodio di chiusura di questa terza stagione. D'altro canto il villain con cui le Leggende si stanno scontrando, Mallus, è un demone. Ed è innegabile che i nostri eroi hanno bisogno di tutto l'aiuto possibile. Inoltre, lo stesso Constantine ha avvisato Ray Palmer (Brandon Routh) che ci saranno conseguenze dopo che Sara Lance (Caity Lotz) è stata posseduta da Mallus stesso in Daddy Darhkest.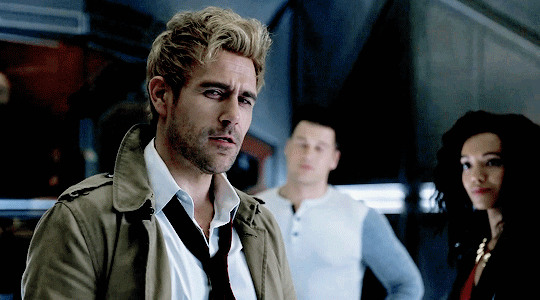 Daniel Cerone, showrunner della Serie Constantine ha dichiarato:
Non so se ho mai visto un attore portare alla luce un personaggio dei fumetti come ha fatto Matt Ryan per Constantine. Tra la Serie che andò in onda su NBC e le successive apparizioni per la The CW, a questo punto sarebbe strano vedere o sentire qualcun altro in quel ruolo.
Per adesso i fan di Constantine possono stare tranquilli, nel sapere che rivedranno sui loro teleschermi il cacciatore di vampiri.