L'ex presidente degli Stati Uniti Barack Obama apparirà in un episodio di Legends of Tomorrow della terza stagione. O meglio, un attore interpreterà Barack Obama come studente universitario alla fine degli anni '70. La notizia arriva direttamente da TVLine: l'episodio in questione di Legends of Tomorrow vedrà le Leggende viaggiare verso l'Occidental College di Los Angeles nel periodo in cui il presidente Barack Obama frequentava l'università. Il ruolo del giovane presidente Obama non è ancora stato scelto. Le riprese dell'episodio in questione sono previste a inizio febbraio e dovrebbe essere trasmesso in aprile.
Questa non è la prima volta che la serie della CW torna indietro nel tempo per "salvare" il mondo da queste anomalie (che loro stessi hanno creato). Come non è la prima volta che si ritroveranno faccia a faccia con un presidente delle Stati Uniti. Le leggende dovettero intervenire per salvare il generale George Washington prima di diventare il primo presidente degli Stati Uniti nell'episodio della seconda stagione intitolato Turncoat. Inoltre, sempre nella seconda stagione, Ulysses S. Grant (John Churchill) apparve nell'episodio Abominations. L'episodio abbiamo conosciuto Grant quando era ancora un generale dell'esercito dell'Unione.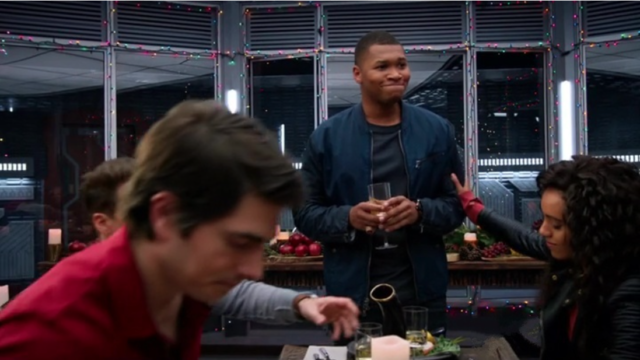 Più recentemente, nell'episodio intitolato Welcome To The Jungle, ovvero il settimo episodio della terza stagione, ha visto il presidente Lyndon Johnson, interpretato da Peter Hall. Nell'episodio le leggende dovevano prevenire l'assassinio del presidente Johnson, per timore che il corso della guerra del Vietnam cambiasse le sorti del mondo nel futuro, creando un'anomalia temporale. Era la prima volta che lo spettacolo rappresentava un presidente americano all'epoca della sua presidenza. L'episodio in produzione con il presidente Obama sarà altrettanto storico. Sarà la prima volta che in Legends of Tomorrow vedremo rappresentato un presidente ancora in vita.
Legends of Tomorrow tornerà il 12 febbraio sul canale The CW!