# #
Questa volta fuori dal set e lontano da qualsiasi Serie Tv, in occasione della promozione di Places, il suo nuovo album che uscirà il 29 aprile, Lea Michele ha scelto di duettare con Darren Criss per consolidare il loro legame attraverso la musica, durante una diretta live su Facebook, con un bicchiere di vino, un pianoforte e un microfono.
# #
Lea Michele, impegnata con Scream Queens (anche se, si pensa, ancora per poco), adesso ha ripreso in mano la sua carriera da cantante; Darren Criss, invece si diverte, suscitando un po' di nostalgia ai fan di Glee, partecipando al crossover musical di The Flash e Supergirl, con i due protagonisti, amici ed ex-colleghi di Glee, Grant Gustin e Melissa Benoist.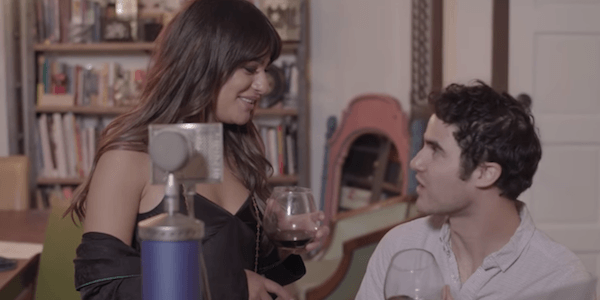 I due ragazzi si sono ritrovati dopo quattro anni dalla prima volta che hanno cantato insieme. Per chi si fosse perso l'episodio: Rachel Berry e Blaine Anderson durante una festa, da ubriachi, iniziano a cantare "Don't You Want Me", originariamente dei The Human League.
# #
L'usignolo, in preda all'euforia, non ha perso occasione per ringraziare la sua amica e collega, postando il video nel suo canale Youtube, scrivendo:
"È stato bellissimo tornare a cantare con una vecchia amica. Riunirmi per voi con Lea è stato incredibilmente divertente, come sempre del resto".
Lea e Darren si sono esibiti anche in Getaway Car, un pezzo tratto dall'album Places e al quale Lea Michele è molto affezionata. Infatti vi sono chiari riferimenti alla sua relazione con Cory Monteith:
"Qualche volta ci capitava di prendere la macchina e guidare semplicemente. Io e il ragazzone alto, era una specie di via di fuga ed era fantastico. Tutto stava diventato così grande, acquisivamo popolarità grazie a Glee e questa era una specie di fuga per noi. Quindi la prossima canzone s'intitola Getaway Car e parla di quei momenti in macchina".