# #
La Ruota del Tempo – Wheel of Time – la celebre saga fantasy di Robert Jordan, avrà finalmente una trasposizione televisiva grazie alla Sony Picture.
# #
Sembra tutto pronto per far partire un nuovo affascinante progetto, una Serie Tv tratta dalla saga high fantasy La Ruota del Tempo. Finalmente la Sony Picture ha deciso di produrre la nuova serie fantasy insieme a Red Eagle e alla Radar Picture.
Erano anni che si vociferava sulla possibilità di vedere sul piccolo schermo l'enorme opera di Robert Jordan, scomparso purtroppo prematuramente nel 2007 prima di concludere la saga. Tuttavia, consapevole di non poter portare a termine il lavoro, aveva scelto lo scrittore Brandon Sanderson (autore di Mistborn) per completare i tre libri conclusivi dei 14 che compongono La Ruota del Tempo.
# #
Sanderson, sotto la supervisione della moglie di Robert Jordan, Harriet McDougal, ha lavorato sugli appunti scritti e vocali e sui capitoli già creati da Jordan. Era stata proprio la signora McDougal a rilasciare, circa un anno fa, questa dichiarazione a cui fin ora non era seguita nessun'altra notizia:
Volevo condividere con voi alcune notizie interessanti su La Ruota del Tempo. I problemi legali sono stati risolti. La Ruota del Tempo diventerà una serie televisiva d'avanguardia! Non potrei essere più contenta. Cercate l'annuncio ufficiale che proviene da un grande studio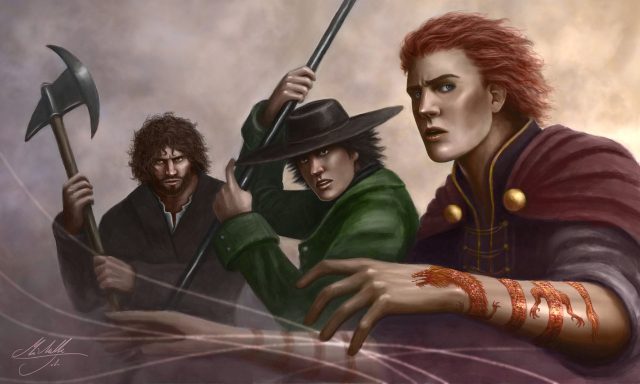 La Ruota del Tempo racconta le avventure di Rand al' Thor, Matrim Cauthon e Perrin Aybara e del loro gruppo di amici e compagni schierati dalla parte della Luce e del Drago Rinato, nella battaglia finale contro il Tenebroso, L'Oscuro Shaitan. Ricco di personaggi e trame avvincenti fatte di intrighi politici, passioni e antiche vendette, i protagonisti dovranno destreggiarsi fra pericoli oscuri e nemici terribili usando la loro arma più forte: L'Unico Potere, a sua volta pericoloso e subdolo. La grande fama de La Ruota del Tempo è dovuta alla sua dettagliata accuratezza, alla sua incredibile vastità di popoli diversi e diversi governi, di tradizioni secolari e filosofie, di magia e misticismo, tutto perfettamente armonizzato dall'autore, che ne intesse le fila in quello che è il grande Disegno della Ruota del Tempo.
Secondo il sito Variety, lo sceneggiatore Rafe Judkins (Agents of S.H.I.E.L.D.) sarebbe già al lavoro per la trasposizione del primo libro intitolato L'Occhio del Mondo. La Ruota del Tempo sarà prodotta oltre che da Judkins stesso anche da Rick Selvage, Larry Mondragon, Ted Field, Mike Weber e Darren Lemke, mentre Harriet McDougal parteciperà al progetto come consulting producer.
Le premesse ci sono tutte, i fan della saga sono in trepidazione ed il pubblico è pronto per assistere a questo magnifico show. Seguendo la fortunata scia di Games of Thrones, che ha spianato la strada al genere fantasy sul piccolo schermo, La Ruota del Tempo ha la possibilità di imporsi nel panorama delle Serie Tv ed appassionare e coinvolgere una vasta fetta di pubblico.