In questi giorni la homepage dei fan di Game of Thrones sarà tempestata da annunci relativi al fidanzamento di Kit Harington e Rose Leslie, rispettivamente Jon Snow e Ygritte nella Serie Tv. Tra i due attori è scoppiato l'amore, non solo sul set ma anche e soprattutto nella vita vera. Le nozze saranno nel 2018, ciò significa che fino ad allora leggeremo diversi aneddoti riguardanti la coppia. Uno di questi riguarda uno scherzo tremendo organizzato da Kit Harington!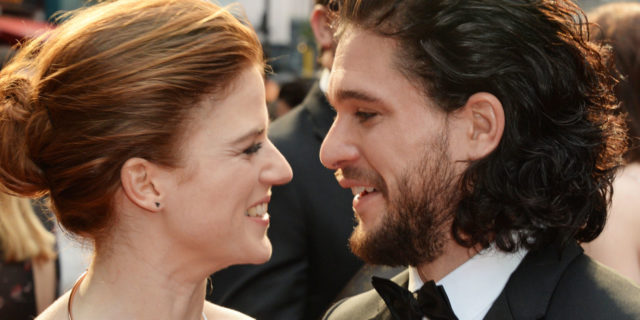 Da qualche giorno gira sul web il video di uno scherzo che Kit Harington ha organizzato alla fidanzata Rose Leslie. L'evento è capitato lo scorso primo aprile, giorno in cui solitamente i "pesci d'aprile" sono divertenti. Lo scherzo messo in atto dall'attore di Game of Thrones sembrerebbe quasi più legato alla giornata di Halloween: "Dolcetto o scherzetto?". Trovate il video in fondo all'articolo!
Kit Harington è stato ospite al The Jonathan Ross Show. L'attore ha parlato del suo fidanzamento con l'attrice Rose Leslie, conosciuta sul set di Game of Thrones (ne abbiamo parlato qui!). Kit ha raccontato diversi dettagli in merito alla loro relazione. Una delle cose più divertenti è stato il racconto dello scherzo realizzato lo scorso primo aprile. O meglio: divertente per noi, ma non certo per la povera Rose!
Lo scherzo organizzato dall'attore è infatti macabro. Ha posizionato la sua testa mozzata dentro il frigorifero della fidanzata, riprendendo di nascosto la reazione della povera vittima. Rose non ha affatto apprezzato il gesto di Kit. Era così sconvolta che ha dichiarato di porre fine alla loro relazione qualora la situazione dovesse ripetersi! Stai attento Kit!
Dobbiamo tuttavia riconoscere all'attore l'originalità di questo incredibile e terrificante scherzo. Possiamo dire che è in perfetto stile Game of Thrones: inaspettato, sconvolgente, traumatico. Ecco il video dello scherzo: