"Woolsey Fire": questo il nome attribuito all'inferno di fuoco che sta mettendo in ginocchio gran parte della California negli ultimi giorni.
Durante la giornata di Venerdì, le fiamme hanno coinvolto nel dramma lo storico set hollywoodiano Western Town, rendendo completamente inagibile il Paramount Ranch nelle Agoura Hills.
La location, sede di numerose opere cinematografiche e non, veniva impiegata negli ultimi tempi per le riprese della fortunata serie HBO Westworld.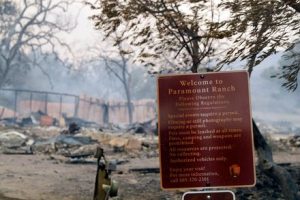 L'emittente si è subito espressa in merito all'accaduto con una dichiarazione all'Hollywood Reporter, mettendo alla luce la situazione relativa alle riprese della serie ed esprimendo la propria solidarietà verso le vittime del disastro:
Paramount Ranch è stata una delle location usata durante la prima e la seconda stagione di Westworld, oltre al Melody Ranch di Santa Clarita, che fa da location principale. Westworld non è attualmente in produzione e, nonostante l'area sia stata evacuata, non conosciamo ancora l'estensione dei danni alle strutture rimanenti. In ogni caso, il nostro pensiero va prima di tutto a chi è stato colpito da questo orribile incendio.
Le immagini del set sono l'angosciante riflesso di quello che è accaduto nello stato americano; il giornalista John Schreiber le ha riportate in un tweet sul suo profilo personale:
Sad for fans of @WestworldHBO and shows like Dr Quinn Medicine Woman, the Paramount Ranch western town movie set has burned to the ground in the Woolsey Fire @CBSLA #westworld #Woolseyfire pic.twitter.com/DhZWaGbr6g

— John Schreiber (@johnschreiber) 9 novembre 2018
La famosa Chiesa, uno dei simboli della serie, parrebbe essere una delle poche strutture ancora intatte. L'attrice protagonista Evan Rachel Wood ha sottolineato la straordinarietà quasi "mistica" dell'evento con un tweet:
Tutto questo è spaventoso. Davvero triste per il pezzo di storia andato perduto. Sono sbalordita dal fatto che la Chiesa sia ancora in piedi. 
Un risultato del caso che, nel profondo, potrebbe nascondere un significativo messaggio di speranza.