La ventinovesima stagione de I Simpson è arrivata! E lo ha fatto nel migliore dei modi. L'Inverno è arrivato anche a Sprigfield dove I Simpson hanno voluto dedicare una puntata in onore della Serie Tv dell'HBO di maggio successo: Game of Thrones. L'episodio a tema mandato in onda dalla Fox si intitola "The Serfsons". Essendo a tema riprende le caratteristiche iconiche della Serie.
In basso troverete un video che riprende una scena della puntata in cui potete vedere voi stessi le somiglianze che richiamano le caratteristiche di Game of Thrones. Ad esempio, alla mamma di Marge resta una settimana prima che il suo corpo congeli del tutto (chiaro riferimento agli Estranei). Qui entra in gioco Lisa, che attraverso i suoi poteri magici creerà dell'oro affinché Homer possa comprare un amuleto da far indossare alla mamma di Marge.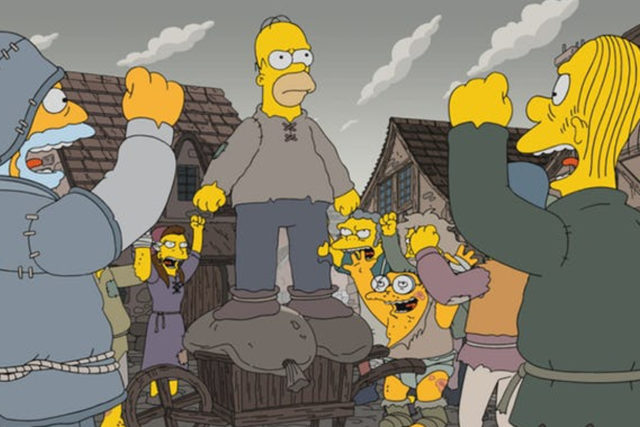 Purtroppo, però, l'uso della magia è vietata. Questo attira l'attenzione di Mr. Burn che fa partire una rivolta. E noi lo sappiamo come finisco le rivolte in Game of Thrones: sicuramente ci sarà qualche testa mozzata nel mucchio e la giusta dose di sangue. A proposito di teste decapitate su picche, chi poteva interpretare Ned Stark decapitato se non Ned Flanders?
Passando ai corvi che utilizza Bart per mandare messaggi a Boe, come vedrete nel video qui
La parte più bella e forse il riferimento sottile alla Serie Tv e i vari incesti la notiamo quando appare Nikolaj Coster-Waldau (Jaime Lannister) interpretato dalla sorella gemella di Marge che esclama: "Sempre qui se hai bisogno di me, sis!"
Una parodia che rende a pieno lo stile di entrambe le Serie Tv, intanto I Simpson sono stati rinnovati per una trentesima stagione. Non ci stancano mai!