**QUESTO ARTICOLO CONTIENE SPOILER SU HUNTERS**
Magari Hunters, la nuova serie tv di Amazon Prime Video, non sarà il vostro genere ma vale quanto meno la pena vedere Al Pacino e Jordan Peele nella stessa serie. Ma quello di cui vi vogliamo davvero parlare è Josh Radnor. Nella serie il giovane Ted interpreta Lonny Flash, un attore di fantasia fallito che fa parte di una squadra di cacciatori di nazisti nell'America degli anni Settanta. Ci sono tuttavia delle somiglianze che non abbiamo potuto trascurare tra Lonny e Ted. Uno è il motore comico di Hunters, l'altro con le sue storie d'amore ha portato avanti How I Met Your Mother.
La vena comica
Mentre Hunters si concentra su Jonah, è Lonny a bilanciare la serie con le sue battute e le sue analogie. Inoltre, gran parte dell'umorismo viene dai colleghi cacciatori nazisti di Lonny che lo prendono in giro per la sua carriera passata. Anche Ted veniva continuamente preso in giro dai suoi amici a causa dei suoi fallimenti romantici e delle sue stranezze: ricordate i baffi che lo facevano sembrare un "proprietario di night club persiano", secondo Barney? O gli stivali rossi da cowboy? O i capelli biondi?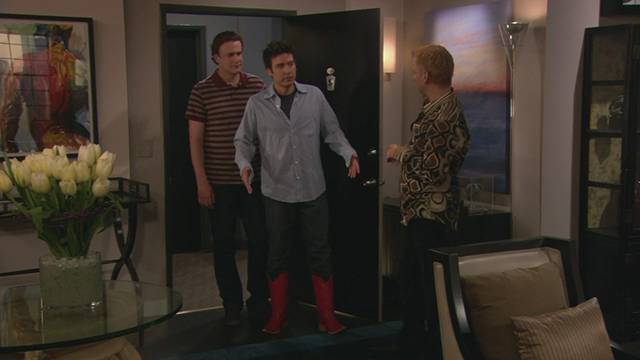 Drama Queens
Durante un colpo Lonny deve fingere di essere un rapinatore di banche. Anche dopo aver finto la propria morte e dopo che Harriet (Kate Mulvany) ha disarmato con successo le guardie di sicurezza, Lonny non tornerà in vita finché non lo dirà lei. Su HIMYM, Ted era un cinefilo snob e conservava ancora le sue radici teatrali. Anche in età adulta, Ted aveva la tendenza a citare drammaticamente Ralph Waldo Emerson, per lo sgomento dei suoi amici. In un episodio, ha affascinato un'intera sala recitando Dante nell'originale italiano. Sono o non sono due drama queens?
Amano i giochi di parole
Lonny e Ted condividono un amore per i giochi di parole che tende ad alienare gli altri intorno a loro. Non dimentichiamo Ted e Robin (Cobie Smulders) e i loro vari usi della parola "generale". Ovviamente giochi di parole che rendono bene in lingua originale tanto quanto doppiati.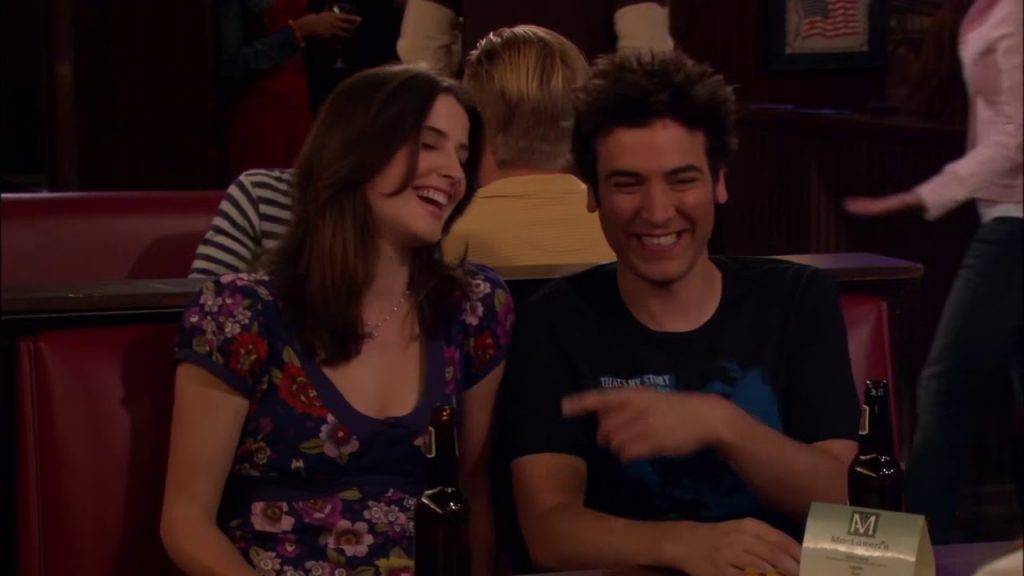 Grandi oratori
Entrambi sono molto bravi a fare discorsi ma poco nei fatti. Lonny dice a Jonah che "se uno di questi cazzoni ti prende per il culo, io… non li prenderò per il culo perché mi spaventano a morte. Ma di sicuro dirò: "Fanno schifo", alle loro spalle".
Sciupafemmine seriali
Lonny ci prova con tutti e con la nonna (come Jonah) in Hunters, e anche Ted non era un angelo. Ma non solo, mentre Barney era dipinto come il Casanova del gruppo, Ted era altrettanto abile. Ha fatto strage di cuori – con la scusa di "trovare la donna della sua vita". Una di queste, di cui non ricordava il nome, l'ha soprannominata "blah blah blah". Questo fa dubitare della sua autoproclamata reputazione di romantico.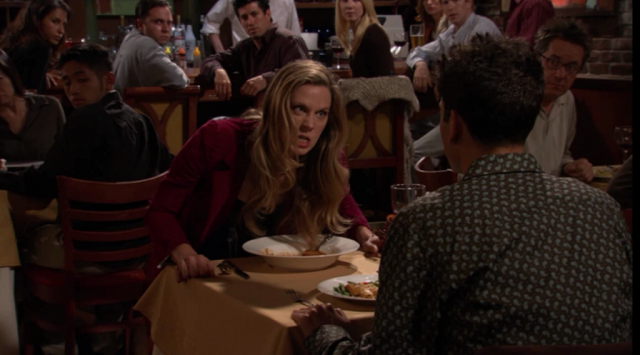 Non sanno parlare Spagnolo
Se ti senti male per il tuo arrugginito spagnolo da liceale, conforta il fatto che almeno non hai mai usato la frase: "We got mas grande s— on our plato, hombre" o "Any dia of the semana" a differenza di Lonny. E mentre Ted si vantava con Lily delle sue capacità linguistiche, quello che le diceva davvero, tradotto in inglese, era "I'm not half-sick at my name is Spanish."
Insicuri al massimo
Secondo le sue stesse parole, Lonny è un "attore insicuro vincitore del Tony Award" che cerca costantemente conferme dai suoi compagni di squadra e riconoscimenti dagli sconosciuti. Ci vuole Harriet che stimola il suo ego perché Lonny vada avanti con la loro trama per sventare i piani dei nazisti.
E non parliamo nemmeno di Ted, che nella seconda stagione di HIMYM era così minacciato dalla sua fidanzata Robin che lei ha dovuto dare via i suoi amati cani per lui. O la volta che ha ottenuto recensioni entusiastiche da quasi tutti i suoi studenti, eppure una valutazione non proprio mediocre lo ha mandato in paranoia.
Morale della favola: Ted avrebbe potuto essere Lonny in un'altra epoca.
Fonte: EW