Arrivano le prime notizie ufficiali sulla serie tv di Halo (ispirata all'omonimo videogioco) che, come sappiamo, verrà prodotta dall'emittente televisiva Showtime.
Le riprese, come annunciato dall'account Production Weekly sul proprio Instagram questa settimana, inizieranno nel mese di giugno dell'anno prossimo. La location scelta dalla produzione per le sequenze sarà Budapest, Ungheria.
Come già annunciato in precedenza, la prima stagione di Halo sarà composta da un totale di dieci episodi.
Ancora non si hanno notizie su chi comporrà effettivamente il cast della serie televisiva.
Uno dei numerosi personaggi previsti e che appariranno però è, senz'ombra di dubbio, Master Chief.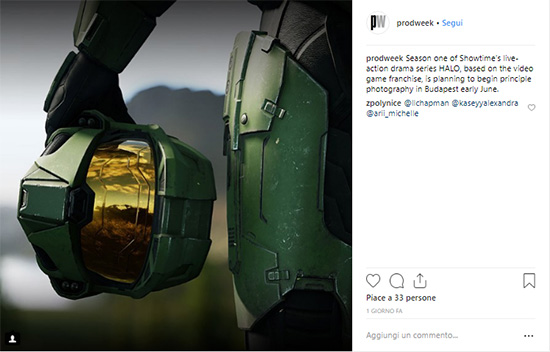 Halo sarà sviluppata da Kyle Killen (Awake), che figurerà anche come showrunner, mentre il regista Rupert Wyatt (Rise of the Planet of the Apes) dirigerà alcuni degli episodi e sarà produttore esecutivo della serie televisiva.
Dalla sinossi diffusa da Showtime riguardo lo show, si legge:
Halo sarà ambientato nel 26esimo secolo, vedrà l'umanità in lotta per la sopravvivenza contro un esercito extraterrestre noto come The Covenant; la serie seguirà le vicende di un soldato d'élite che incontra misteriose strutture antiche, ognuna delle quali detiene i propri segreti mortali e distruttivi che minacciano la vita senziente nell'universo.
David Nevins, presidente di Showtime, aveva dichiarato all'annuncio della serie televisiva:
Halo è la nostra Serie più ambiziosa di sempre, e ci aspettiamo che il pubblico che l'ha attesa per anni venga ampiamente ripagato. Halo soddisferà i fan del videogioco mentre condurrà i neofiti in un mondo di personaggi complessi che popolano questo universo unico.
Lo show tanto atteso dagli appassionati di videogiochi in tutto il mondo, debutterà molto probabilmente sul piccolo schermo solo nel 2020, parallelamente all'uscita anche della serie su The Witcher, che andrà in onda su Netflix.
Che cosa vi aspettate da questa prossima serie tv?