Non solo American Gods: anche un altro romanzo di Neil Gaiman sta per essere adattato sul piccolo schermo. Si tratta di Good Omens (1990, edito in Italia come Buona Apocalisse a tutti!). Nel cast della Serie Tv ci saranno attori di gran calibro, tra cui Sir Derek Jacobi.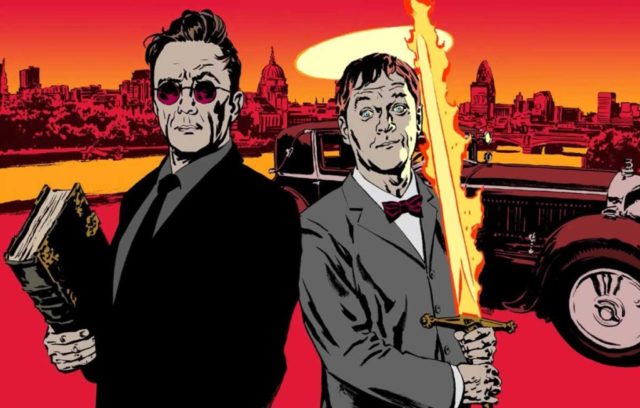 In Good Omens, l'Apocalisse è vicina. Il Giudizio Finale è destinato a scendere sull'umanità; tutto sembra andare secondo il piano divino. Ma Azraphel, un esigente angelo, e Crowley, un demone dissoluto, che hanno vissuto tra i mortali fin dall'inizio dei Tempi e sono diventati appassionati dello stile di vita umana, non sono impazienti per l'imminente guerra.
Il romanzo è stato pubblicato nel 1990 ed è una collaborazione a quattro mani tra Neil Gaiman e Terry Pratchett. Good Omens è dunque un racconto in chiave umoristica e metafisica dell'Apocalisse.
La Serie Tv è prodotta dalla BBC Studios e delle case di produzione Narrativia e The Blank Corporation. Arriverà su Amazon Prime nel 2019. La serie ha già cominciato le riprese, e qui puoi vedere alcune immagini dal set.

Nel cast troviamo David Tennant (Doctor Who) e Michael Sheen (Masters of Sex) nei panni dei due protagonisti. A loro si è ora aggiunto sir Derek Jacobi, che interpreterà Metatron, la Voce di Dio, ovvero l'angelo che fa da portavoce della volontà divina.
Sir Derek Jacobi è uno stimato attore britannico, conosciuto per le sue performance shakespeariane. L'attore ha anche interpretato il Maestro in Doctor Who e ha presto parte alla comedy Vicious.
Oltre a Tennant, Sheen e Jacobi, nel cast vedremo anche Anna Maxwell Martin (Dieci piccoli indiani della BBC), che interpreta Belzebù, leader delle forze del male. Jon Hamm (Mad Men) sarà invece l'arcangelo Gabriele, leader delle forze del bene. Entrambi i personaggi avranno un ruolo maggiore nella Serie Tv rispetto al corrispettivo cartaceo.
Con queste premesse, Good Omens sembra avere tutte le carte in regola per diventare una Serie di grande successo!