La Serie Tv comedy-drama sul wrestling femminile di Netflix sta per tornare. Dopo aver annunciato la data di rilascio di GLOW con un video sulle note di "Maniac", ora il servizio di streaming ha rilasciato il trailer ufficiale della seconda stagione!
GLOW torna su Netflix il 29 giugno 2018 con la seconda stagione. Il trailer ci dà un primo assaggio su quel che vedremo nei 10 episodi:
Il rapporto tra Ruth e Debbie è ancora alle strette, mentre quest'ultima sta divorziando. In questa stagione le donne del GLOW diventano celebrità locali e devono confrontarsi con le cose belle e quelle brutte della notorietà:
"Abbiamo dei fan. Le ragazze ricevono lettere. Ci sono dei tipi strani che le aspettano fuori dalla palestra".
Sul ring del wrestling, accanto alle donne lottatrici, arriveranno anche gli uomini, ma tra i due gruppi di lottatori i rapporti saranno tesi.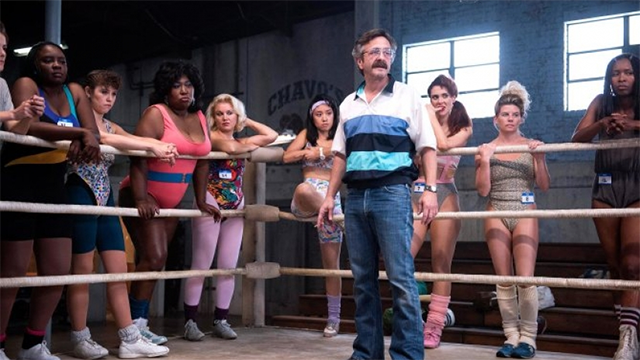 GLOW è una Serie Tv realizzata da Liz Flahive e Carly Mensch ed è ispirata all'omonimo GLOW (Gorgeous Ladies of Wrestling), programma di wrestling professionale iniziato nel 1986.
Il cast è guidato da Alison Brie (Ruth "Zoya la Destroya" Wilder,), famosa per il ruolo di Annie Edison in Community. Nel cast con lei troviamo Betty Gilpin (Debbie "Liberty Belle" Eagan), Sydelle Noel (Cherry "Junkchain" Bang), Britney Young (Carmen "Machu Picchu" Wade) e Sam Sylvia (Marc Maron).
Vediamo anche Kate Nash (Rhonda "Britannica" Richardson), Marianna Palka (Reggie "Vicky the Viking" Walsh), Jackie Tohn (Melanie "Melrose" Rosen), Sunita Mani (Arthie "Beirut the Mad Bomber" Premkumar), Kimmy Gatewood (Stacey "Ethel Rosenblatt" Beswick), Rebekka Johnson (Dawn "Edna Rosenblatt" Rivecca), Ellen Wong (Jenny "Fortune Cookie" Chey), Kia Stevens (Tammé "The Welfare Queen" Dawson) e Gayle Rankin (Sheila "the She Wolf").
GLOW non è l'unica Serie Tv che tornerà su Netflix a giugno: qui trovi le altre.