Dopo l'annuncio che l'ottava sarà la stagione conclusiva di Game of Thrones, il buon vecchio George R. R. Martin, autore de "Le cronache del ghiaccio e del fuoco" da cui il Trono di Spade ha origine rivela, sul proprio blog, che un'altra delle sue opere diventerà presto una serie tv! L'universo letterario che arriverà in televisione sarà quello di Wild Cards.
"Wild Cards è una serie di libri, fumetti, giochi.. Ma principalmente è un universo, ampio, vario ed eccitante, come gli universi della Marvel e della DC (anche se è più crudo, e molto più realistico e coerente), con un enorme cast di personaggi, sia principali che secondari", ha spiegato l'autore sul suo Not a Blog. "Ci sono migliaia di storie da raccontare nel mondo di Wild Cards".
Wild Cards è una saga sci-fi creata da un gruppo di scrittori del New Mexico capitanati e guidati da Martin in persona. La serie tv ricalcherà la trama dei 22 volumi della saga (che comprendono un centinaio di episodi): la storia ucronica inizia il 15 Settembre 1946 quando un virus alieno, il Wild Card, viene rilasciato sulla città di Manhattan propagandosi poi molto velocemente su tutta la Terra.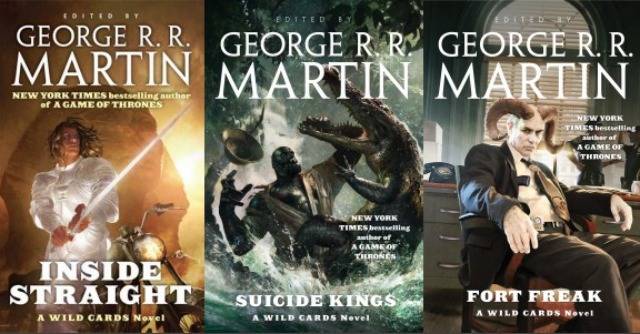 Il virus infetta tutta la popolazione: il 90% degli infetti muore (destino che tocca a coloro che hanno "estratto la regina nera"), il 9% di loro cambia in maniera irreversibile diventando, dopo esperimenti e torture, un joker (i pochi che hanno estratto il jolly) ed il restante 1% diventano  "aces" dotati di poteri sovrumani (i più fortunati che hanno estratto l'asso). All'indomani della pandemia il mondo condiviso di Wild Cards si ritrova popolato da mutanti e metaumani divisi in Joker ed Assi.
La Universal Cable Production (UCP, che ha prodotto anche Mr.Robot e Suits) ha già acquistato tutti i diritti per creare una serie tv.
A lavorare al progetto ci sarà anche Gregory Noveck della SyFy Films e Melinda Snodgrass, autrice di alcuni racconti di Wild Cards e braccio destro di Martin, e che sostituirà l'autore, troppo impegnato con la HBO per Game of Thrones e con la stesura di The Winds of Winter, nella direzione dei lavori.
La fase pre-produzione è già in fermento e la UCP e Martin sperano che la serie debutti già fra un paio di anni.
Wild Cards are coming….