In queste settimane non si parla di altro. La fine delle riprese dell'ottava stagione di Game of Thrones è sicuramente la fine di un'era. Non solo per noi fan che ci siamo avvicinati a questo mondo sin dai libri di zio George R.R. Martin ma anche per gli attori che per otto stagioni hanno prestato il volto ai protagonisti della storia. La settimana scorsa in questo articolo vi avevamo svelato i dettagli del party di fine riprese.
Secondo il sito Watchers on the Wall che ha avuto alcuni dettagli sull'evento in generale, che si è svolto a Belfast, sabato c'è stata anche l'esibizione della rock band nordirlandese Snow Patrol, teste di dragoni fiammeggianti e toccanti discorsi dei creatori dello show David Benioff e D.B. Weiss. Ma gli occhi più attenti sono arrivati a notare un dettaglio fondamentale. La scorsa estate durante la messa in onda della settima stagione soprattutto dopo l'episodio finale, si iniziò a ipotizzare l'ipotesi di una futura gravidanza di Daenerys, che potrebbe portare in grembo il figlio di Jon (suo nipote).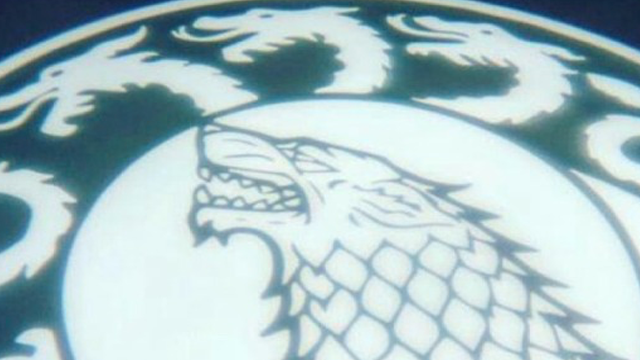 La foto che vi abbiamo mostrato sopra potrebbe confermare tutte queste voci. Uno stemma che combina quello dei Targaryen e quello degli Stark. Il figlio di Jon e Deanerys (o figlia) sarà il degno erede del Trono di Spade. Questo è l'ennesima anticipazione che si va ad aggiungere alle molte altre citate in questo articolo. Alcune delle quali prevedono oltre il ritorno dell'attore che interpretato Rhaegar Targaryen, il vero padre di Jon che apparirà in vari flashback, forse per spiegarci definitavamente la storia di Jon.
Ma tornare sarà la balestra gigante ammazza draghi. Non quella utilizzata nella settima stagione, andata distrutta quando Bronn ha colpito Drogon e Daenerys, ma crediamo che ne verrà ricreata una simile se non peggiore.
Insomma spoiler dopo spoiler ci avviciniamo all'ottava stagione di Game of Thrones!