Game of Thrones è una delle Serie Tv più amate: stiamo aspettando impazientemente di vedere l'ottava e ultima stagione, che arriverà sulla HBO nel 2019.
Ma l'universo della Serie Tv è così vasto e strutturato che la HBO ha preso in considerazione l'idea di fare degli spin-off. All'inizio sono stati pensati quattro spin-off prequel, scritti da diversi sceneggiatori. Un quinto si è aggiunto in seguito, con George R.R. Martin come co-creatore.
Di questi solo uno è però ufficiale: quello ideato da Jane Goldman. In questo spin-off, gli eventi saranno ambientati migliaia di anni prima della lotta per il Trono di Spade. Si parlerà infatti della discesa del mondo dall'età dell'oro degli Eroi alla sua ora più buia.
Si pensava, inoltre, che la HBO stesse lavorando a un secondo prequel sull'Impero Valyriano e le origini della famiglia Targaryen.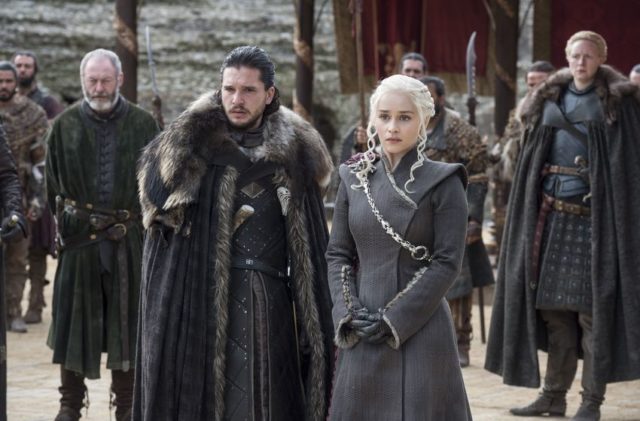 Il presidente della HBO Casey Bloys ha però smontato tutte le ipotesi. Ha infatti confermato che quello di Jane Goldman sarà l'unico spin-off che vedremo, almeno per ora.
"Non sono in programma altri spin-off di Game of Thrones per ora.

Il motivo per cui abbiamo richiesto numerose sceneggiature è perché sapevamo che saremmo stati fortunati a trovarne uno tra cinque di cui saremmo stati entusiasti. Gli altri erano buoni, ma non continueremo i loro progetti.

Siamo molto entusiasti del pilot che filmeremo e stiamo cercando un regista e facendo i casting per gli attori. Non ci occuperemo degli altri spin-off prequel finché non vediamo come va questo, finché non vediamo che tipo di responso ottiene."
Come ha affermato Bloys, la produzione è ora alla ricerca del regista e degli attori per filmare il pilot, le cui riprese cominceranno nei primi mesi dell'anno prossimo.
Dan Weiss e David Benioff, che dal 2011 regalano gioie e (principalmente) dolori ai fan di Game of Thrones, non prenderanno parte al progetto degli spin-off.