Diverse scene cancellate dell'ultima stagione di Game of Thrones potrebbero spiegare meglio l'arco narrativo di Daenerys Targaryen (Emilia Clarke), quel filone che l'ha fatta diventare la Regina Pazza.
Sono passati diversi mesi da quando la serie di HBO, basata sulla saga di George R.R. Martin, ha concluso la sua corsa in otto stagioni con un finale che ha diviso il pubblico. Dopo le prime e amatissime prime stagioni, le ultime dello show sono state definite da fan e critici "senza senso e dal ritmo frenetico".
I copioni completi dell'ottava stagione composta da sei episodi di Game of Thrones sono ora disponibili per la lettura presso la biblioteca della Writers Guild Foundation di Los Angeles. Recentemente Insider ha citato alcune delle scene chiave, tra cui alcune di quelle cancellate che avrebbero gettato le basi per la svolta oscura di Daenerys.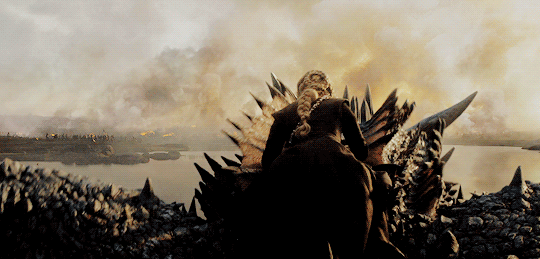 Nell'episodio quattro intitolato "L'ultimo degli Stark", Verme Grigio (Jacob Anderson) e Missandei (Nathalie Emmanuel) avrebbero dovuto avere un ulteriore scena sullo schermo per enfatizzare la loro relazione.
Allo stesso tempo, inconsapevolmente, avrebbero guidato ulteriormente Khaleesi verso un punto di isolamento.
Sarebbe stata una scena chiave durante la celebrazione a Grande Inverno dopo la loro vittoria contro il Re della Notte. Daenerys, nel vedere i suoi due più stretti alleati follemente innamorati, si sentiva sola, mentre il suo stesso amante Jon (Kit Harrington) sembrava ignaro dei suoi sentimenti.
Non ha aiutato il fatto che a questo punto Jorah Mormont (Iain Glen) fosse già morto.
Nello stesso episodio, al termine del confronto sulla vera identità di Jon, i due protagonisti si baciano, ma la sceneggiatura rivela che prima che Daenerys dichiarasse come avrebbe governato, la Regina avrebbe verbalizzato i veri sentimenti di Jon riguardo la loro relazione: "Ti fa schifo".
L'omissione delle suddette scene solidifica le critiche di molti fan e conferma che lo show è stato affrettato nella conclusione.
Includere queste scene avrebbe probabilmente aiutato la comprensione dell'arco narrativo di Daenerys.
Che cosa ne pensate?