Un libro di concept art relativo a Game of Thrones prossimamente in uscita ha rivelato che il Re della Notte, originariamente, aveva un design molto diverso e più regale. Il Re della Notte è stato fonte di molte teorie dei fan dopo la sua introduzione nell'episodio della quarta stagione, intitolato Oathkeeper: la puntata diede un primo sguardo ai meccanismi interni degli Estranei, qualcosa che non era mai stato ancora esplorato nei romanzi dell'autore George R.R. Martin.
Gli Estranei erano un'arma creata dai Figli della Foresta per essere usati contro gli umani: il Re della Notte era il primo del suo genere. Nella saga cartacea A Song of Ice and Fire c'è un personaggio chiamato Re della Notte vicino agli Estranei ma la sua connessione, se presente, rimane poco chiara. La versione del personaggio dello show si è rivelata un successo per molti fan, e il design aggressivo è stato utilizzato in innumerevoli meme.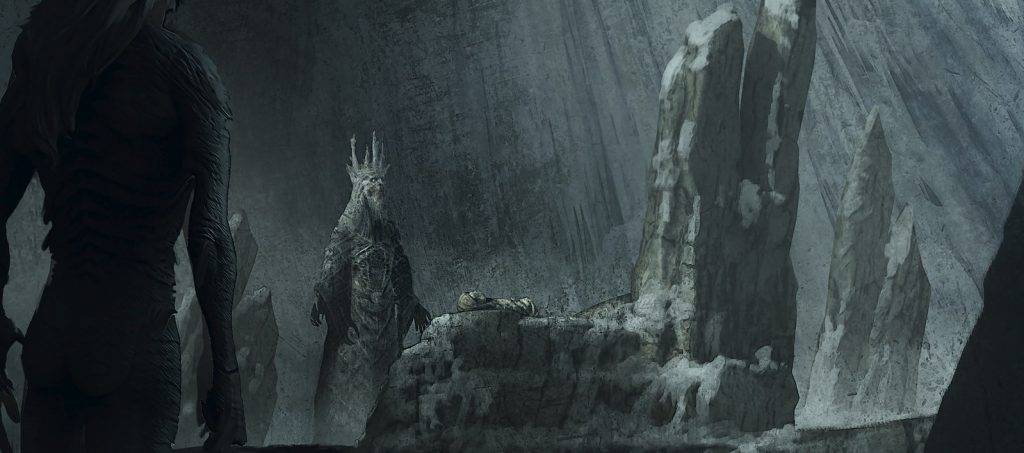 Nel libro chiamato The Art of Game of Thrones vengono rivelati i concept art inutilizzati di tutta la serie. Uno degli autori è Deborah Riley, che ha lavorato come scenografo in Game of Thrones a partire dalla quarta stagione. The Art of Game of Thrones contiene concept art originali che mostrano un design molto diverso per il Re della Notte. Quello originale lo mostrava con corna più pronunciate e un set di abiti dallo stile simile a una ragnatela, contrariamente all'armatura che indossa nello show.
Il Re della Notte aveva anche capelli lunghi e barba, che lo avvicinavano di più alle fattezze di tutti gli altri Estranei.
Ai progettisti è stata data più libertà del normale con la creazione del Re della Notte, non avendo una controparte diretta cartacea e siccome la serie stava esaurendo il materiale originale. Mentre i personaggi e la storia andavano in nuove direzioni, gli showrunner si sono concentrati maggiormente sul terrificante leader. Poiché il personaggio è completamente muto nello show, la sua presenza intimidatoria dipende in gran parte dall'aspetto.
E voi avreste preferito la versione originale a quella utilizzata nello show?