Game of Thrones, tra le tante cose, è una Serie Tv violenta. Combattimenti, scontri corpo a corpo, omicidi spietati: in ogni episodio succede qualcosa di straziante. Alcune scene si vedono più facilmente di altre, ma alcune sono proprio difficili da digerire. Non solo per noi: anche e soprattutto per gli attori della Serie.
Nikolaj Coster-Waldau, che in Game of Thrones interpreta Jaime Lannister, ha recentemente parlato di due scene della Serie che, per motivi tra loro ben diversi, non è riuscito a guardare.
In Game of Thrones vengono normalizzate molte storie scioccanti: le persone vengono decapitate, stuprate e chi più ne ha più ne metta. Durante una recente intervista con Variety, Nikolaj Coster Waldau ha detto che l'equilibrio che la Serie riesce a dare a tutte queste storie è notevole. Ha poi menzionato una scena che ha fatto fatica a guardare. Si tratta di quando la piccola Shireen è stata bruciata viva:
É stato davvero crudele. Capisco il motivo per cui lo hanno fatto, ma non sono riuscito a guardare. Ed è stato anche difficile da leggere.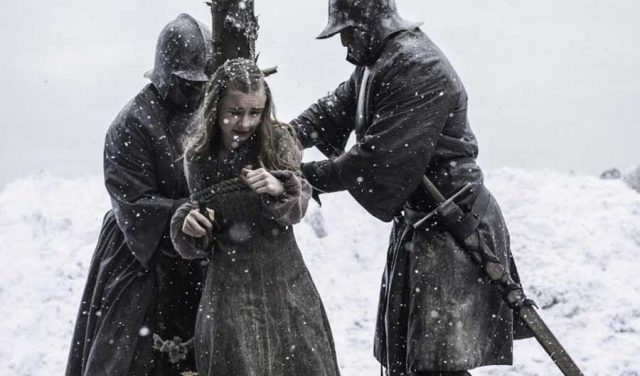 La crudeltà di questa scena dovrebbe aver colpito tutti. Oltre ad essa, c'è un'altra scena che ha disturbato l'attore, questa volta non per la violenza. Si tratta di quando Robin Arryn è stato allattato all'età di sette anni:
É stato davvero strano e sbagliato da più punti di vista.
La scena relativa alla crudele morte di Shireen è inevitabilmente straziante, mentre quella che vede Robin Arryn come protagonista è, come dice l'attore, davvero strana! Sono diversi i motivi per cui non è riuscito a guardare queste due scene ed è interessante notare come la violenza, un tratto ormai distintivo di Game of Thrones, compaia solo in una di esse.