Si parla spesso di lieto fine. Ma non possiamo certo aspettarcelo in Game of Thrones. La Serie ha mostrato la dipartita di numerosi personaggi, anche importanti, e il finale non sarà da meno (come già confermato da Emilia Clarke).
Sophie Turner, che in Game of Thrones interpreta Sansa Stark, ha recentemente commentato il finale della Serie. L'attrice si è concentrata in modo particolare sulla figura del suo personaggio e sulle donne di Game of Thrones!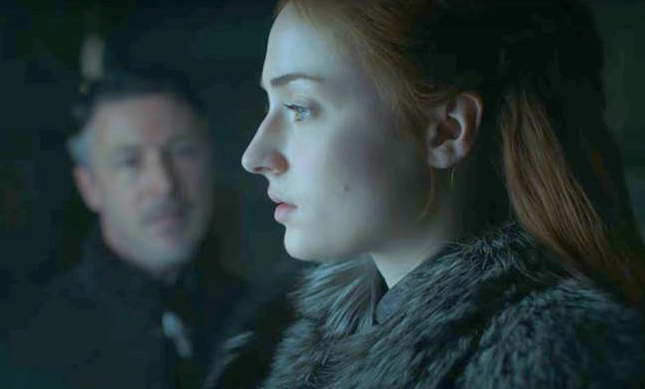 In merito al finale di Serie (che si concluderà con l'ottava stagione) la Turner, durante un'intervista con Gold Derby, ha dichiarato:
Posso dire che ci saranno decisamente diversi incontri tra i personaggi. Tutti si uniranno per combattere l'incombente tragedia. C'è molta tensione tra ognuno di questi piccoli gruppi, che lottano per qualcosa che credono essere giusto. È Game of Thrones: sarà più sanguinoso, vedrete più morti e subirete più torture emotive rispetto agli anni scorsi.
Tra questi piccoli gruppi è presente anche Sansa Stark.
L'evoluzione del personaggio è molto riconosciuta, ma potrebbe non essere finita qui. L'attrice, in merito al suo personaggio, ha dichiarato:
Ho sempre visto in Sansa una guerriera, ma non credo che tutti l'abbiano riconosciuta. Ho sempre avuto l'impressione che stesse imparando e che si stesse adattando, e che prima o poi questo istinto si sarebbe manifestato da solo, in qualche modo. E lo ha manifestato dimostrando di essere una guerriera. È stata una soddisfazione quando è successo e sono davvero felice della direzione che ha preso la storyline di Sansa.
Ma Sansa non è l'unica donna che in Game of Thrones merita di essere ricordata per la sua evoluzione. Lo ricorda la stessa Turner con queste parole:
Abbiamo delle donne molto forti in questa Serie, ognuna a modo suo. Tutte loro emulano forze diverse e dimostrano che le donne possono essere forti, ed è una cosa che amo di questa Serie. Nessuna di loro ha accesso al potere nello stesso modo.
Se da un lato le parole di Sophie Turner ci ricordano che Game of Thrones è piena di uccisioni, guerre e vendette, dall'altro lato ci dimostra che la Serie non è solo sangue e morti. É molto di più e i personaggi femminili hanno un ruolo molto importante: dimostrano che ogni donna ha un proprio punto di forza e non deve mai temere di fare emergere il meglio di sè.