Non sapete come rilassarvi e scaricare lo stress dopo una giornata stancante? Tenetevi forte, ragazze e ragazzi, perché a breve sarà possibile acquistare il coloring book che ha come protagonista delle sue bianche pagine Jason Momoa, la star di Game of Thrones! È stato l'illustratore dalle origini italiane Maurizio Campidelli a ideare una sua personale linea di mandala intitolata Crush N' Color, ovvero "innamorati e colora".
Il libro da colorare è pubblicato da MacMillian al prezzo di 13,99$ e raffigura l'interprete di Drogo intento nelle attività più disparate.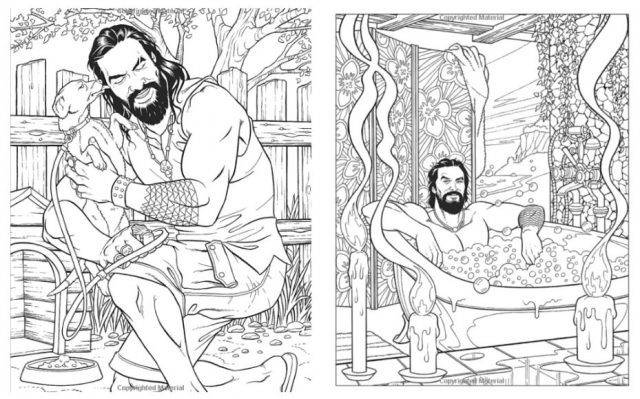 I disegni rappresentano la star hawaiana come se fosse appena uscito dai sogni della maggior parte dei suoi fan, che lo immaginano in situazioni quotidiane e anche più provocanti. Intento a bere the seduto in veranda, a scrivere una lettera, fare surf o un bagno rilassante e perfino portare a spasso i cani. Sarà quindi possibile rilassarsi dopo un'estenuante giornata in compagnia dell'affascinante figura di Momoa.
Ma ecco la sinossi ufficiale del coloring book:
"Intrappolato in ogni pagina troverete l'allegro fascino di Jason e il suo irresistibile vigore, pronti per essere colorati. Colora la tua strada verso una giornata da sogno con romantiche fantasie e stimolanti manifestazioni di mascolinità su ogni pagina."
In realtà, il libro anti stress dedicato a Momoa non è l'unico mandala ispirato alle celebrità di Hollywood in cui si è dilettato l'artista Campidelli. Infatti, il disegnatore aveva già realizzato un coloring book con protagonista l'attore Idris Elba – definito l'uomo più sexy di sempre! – e un altro al divo immortale Keanu Reeves – considerato da Campidelli un eroe misterioso. Tuttavia, abbiamo motivo di credere che sarà con l'attore di Game of Thrones e Aquaman Jason Momoa che i lavori originali pubblicati da MacMillan raggiungeranno maggiore successo e visibilità.