L'ultimo episodio di Game of Thrones 8, andato in onda domenica notte, avrà lasciato scontenti parecchi bookmakers. Specifichiamo che in questo articolo si parlerà degli avvenimenti della 8×06 quindi non continuate la lettura se non volete incappare in qualche spoiler. Una ricerca/sondaggio voluta da Firehouse Strategies/Øptimus ha raccolto le opinioni degli americani in vista dell'ultimo episodio: i risultati non sono per nulla vicini a quello che è accaduto realmente.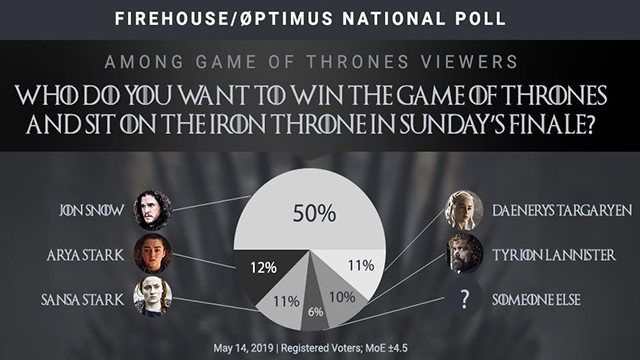 Come potete vedere nella foto sopra i numeri parlano abbastanza chiaro. Il favorito era Jon Snow ma per lui il finale di serie ha riservato solo una gioia: il ricongiungimento con Ghost. Jon riesce a unire una nazione intera: il 47% dei democratici e il 55% dei repubblicani a livello nazionale fanno il tifo per lui. Invece, le donne che guardano Game of Thrones sostengono Daenerys (13%) rispetto agli spettatori di sesso maschile (8%).
Da questo sondaggio è emerso anche quali e in quanta percentuale sono i personaggi preferiti della serie: gli Stark battono i Lannister, decisamente. Jon Snow e Arya si sono aggiudicati il ​​podio, con una preferenza dell'81%. Sansa completa la casata con il 64%. Tra i fratelli Lannister, Jaime sembra essere il favorito con il 50%, mentre Cersei solo al 22%. Tyrion è molto popolare con il 77%. Invece, Daenerys c'è una solida spaccatura: il 44% la amano e il 40% la detesta.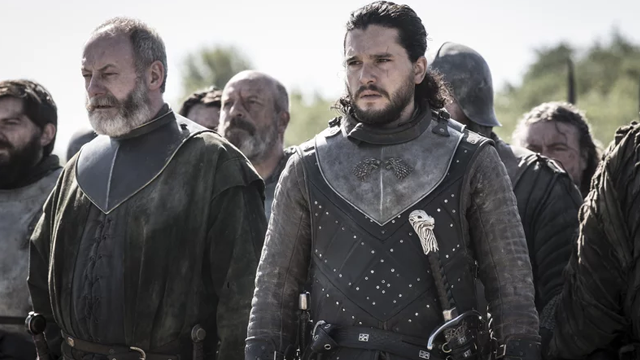 Un'altra cosa che emerge è il range di età di coloro che guardano Game of Thrones: il 48% hanno tra 18 e 34 anni, il 34% hanno tra 35 e 54 anni e solo il 16% hanno oltre 55 anni. Solo il 35% del totale sono democratici mentre il 23% sono repubblicani, la restante parte non ha una posizione politica. Questo dimostra ulteriormente, sempre secondo la ricerca, che i politici americani non solo sono impopolari ma anche poco apprezzati: Donald J. Trump (-28) e Joe Biden (-5).
E voi? Avete avuto il finale che speravate?