Qualche mese fa si è conclusa un'era.
Si è chiuso un grande libro di storie di eroi, amori e battaglie.
Qualche mese fa si è conclusa l'ottava stagione di Game of Thrones.
Come tutte le più grandi e seguite serie tv, anche Game of Thrones 8 e il suo finale hanno fatto discutere. Oggi però non vogliamo parlarvi della sesta puntata e delle scelta di far sedere Bran sul trono.
Non vogliamo nemmeno analizzare le pecche e gli errori riguardanti la morte di Cersei oppure la scelta della fine di Daenerys. In questo articolo vogliamo raccontarvi della morte del Re della Notte e di chi l'ha ucciso: Arya Stark. I produttori di Game of Thrones 8, in fase di montaggio, decisero di tagliare il viaggio di Arya. Quale? Quello partito dalla stanza in cui si trovava insieme a Melisandre e al Mastino. Quello della frase ormai storica: "Non oggi". Quello che l'ha portata a uccidere il Re della Notte.
Perché questa decisione? Ecco qualche risposta.
Dopo anni di attesa, lo scontro tra i vivi e i morti ha finalmente avuto luogo nell'episodio 3 di Game of Thrones 8, intitolato "La lunga notte". Ottanta minuti dedicati alla lotta contro il Re della Notte. Prima della battaglia, sia noi, sia tantissimi fan avevano provato a immaginare centinaia di teorie su chi avrebbe potuto sconfiggere il nemico numero uno (fino a quel momento) di tutta la saga. Comprensibilmente, Jon Snow era in cima alla lista dei possibili candidati. Ma in una svolta inaspettata di eventi, la morte del Night King è avvenuta tramite un attacco furtivo di Arya. Oggi abbiamo scoperto che la scena del "viaggio" fino al Parco degli Dei era stata filmata, ma che i produttori hanno deciso di tagliarla.
Il regista del terzo episodio Miguel Sapochnik ha recentemente avuto un'intervista con The Hollywood Reporter e ha parlato della loro decisione di non farci vedere la corsa di Arya.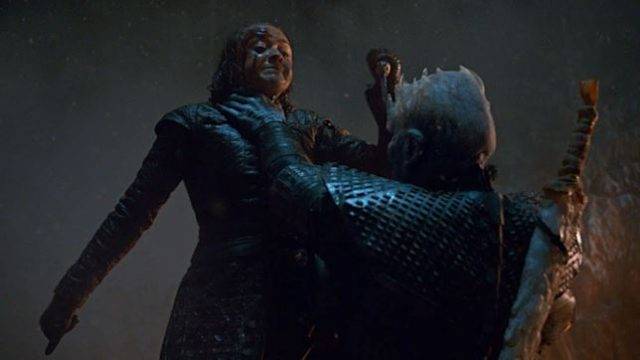 Ecco le parole di Sapochnik riguardo al terzo episodio di Game of Thrones 8:
"Ho messo in discussione tutto e abbiamo lavorato a lungo e duramente per trovare il giusto equilibrio tra credibilità e realizzazione. Quindi abbiamo girato e ripreso e abbiamo scoperto che ciò che era veramente importante era il ritmo. Ad un certo punto c'era un piano elaborato per farla combattere facendosi strada nel Parco degli Dei, ma man mano che avanzavamo ci siamo resi conto che l'aveva già fatto prima nell'episodio, quindi tutto ciò sembrava una ripetizione. Alla fine abbiamo pensato che non importava come fosse arrivata lì – ciò che contava era il momento in cui attacca il Re della Notte. Ho adorato anche la performance di Maisie dopo l'uccisione del Night King, mente condivideva un momento di emotività con suo fratello Bran. E poi il suo sorriso stanco e quella frase: 'Non oggi'."
Considerando esclusivamente la durata dell'episodio, forse questo ragionamento da parte del regista può essere lecito. Anche se si poteva dar comunque ritmo e farci vedere quello che stava combinando Arya. Sicuramente siamo anche noi influenzati dall'opinione dei fan.
Certo, nessuno si aspettava che la lunga resa dei conti con il Re della Notte sarebbe finita in un singolo episodio, ma così è stato. E mentre, per alcuni, sovvertire le aspettative è la chiave per un'efficace narrazione drammatica, molti non la pensano in questo modo.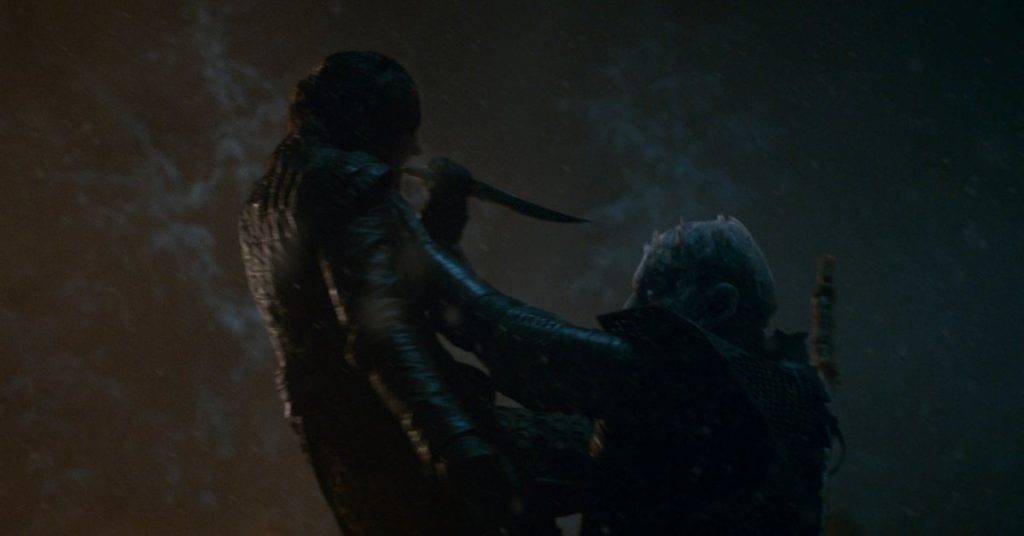 Cosa dire quindi?
Indipendentemente dal fatto che l'intera stagione finale di Game of Thrones sia andata a buon fine, tagliare la scena era forse la cosa giusta. Sarebbe stato bello vedere Arya in movimento con assoluta determinazione dopo la rivelazione di Melisandre che sarebbe stata lei a uccidere il Re della Notte. Ma la nostra sorpresa nel vedere Arya saltare verso il nemico non avrebbe avuto lo stesso fattore elettrizzante se ci fosse stato esplicitamente rivelato con anticipo l'intento. Voi cosa ne pensate?