Game of Thrones 8 è finita ormai da una settimana e ancora si parla del suo atto conclusivo. La serie tv targata HBO ha stracciato ogni record. Quello che vogliamo raccontarvi oggi riguarda proprio il gran finale. Precisamente riguarda Daenerys Targaryen, o meglio, Emilia Clarke. Si perché la bionda esplosiva ha raccontato in una intervista come si è preparata alla puntata finale di Game of Thrones 8. Il ruolo della Madre dei Draghi è cambiato molto, lungo la stagione, e milioni di fan ne hanno discusso e noi avevamo previsto questa svolta già prima che avvenisse (in questo articolo). Proprio per questo cambio drastico, Emilia Clarke ha raccontato di aver provato molta ansia e di aver addirittura pensato di non essere all'altezza per il finale di stagione.
Nelle ultime due puntate di Game of Thrones 8, la sensazione che Daenerys conservasse quella pazzia di suo padre è diventata realtà. Tutti abbiamo visto con quale follia e con quanta cattiveria la donna abbia distrutto Approdo del Re. La deriva autoritaria e folle di Daenerys si è poi conclusa con il discorso alle truppe, nel quale la regina ha promesso lo stesso trattamento per tutte le città da Dorne a Grande Inverno, per spezzare la cosiddetta ruota. Un discorso di pura esaltazione che ha scioccato Jon e Tyrion (qui raccontiamo il nano attraverso una canzone di Fabrizio De André), ma che ha sottolineato le doti attoriali di Emilia Clarke.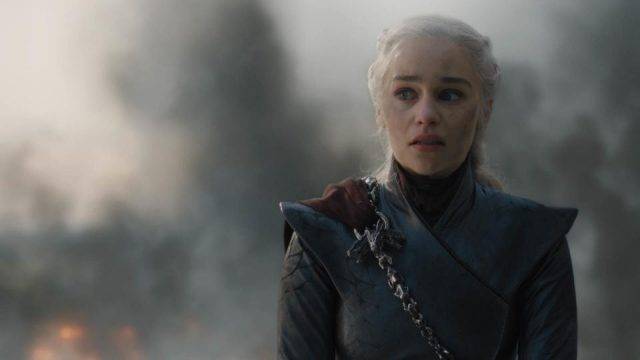 Ma a chi si è ispirata Emilia Clarke per il discorso alle truppe in Game of Thrones 8?
La bella attrice britannica, ai microfoni di Variety, ha raccontato che ha dovuto studiare molto. Ha dovuto imparare un sacco di lingue inventate come il Valyriano e il Dothraki e questo le ha messo molta pressione. Un conto infatti è imparare le battute, un altro è impararle in lingue sconosciute e totalmente nuove. Anche il discorso nella puntata finale di Game of Thrones 8 è stato recitato in Valyriano e questo ha richiesto molta concentrazione e tanto studio.
Di norma, affronto queste cose abbastanza velocemente, ma questo discorso significava così tanto per me. Ero così preoccupata di finire con il mandare tutto a pu***ne. Sono rimasta sveglia ogni notte, per più o meno due mesi. Ho recitato il discorso ai miei fornelli, al mio frigorifero, l'ho recitato a tutta Belfast dalla finestra! La finestra però era chiusa, non volevo che le persone pensassero che stessi diventando pazza sul serio.
Gli sforzi di Emilia Clarke però non sono stati vani e alla fine il discorso le è entrato in testa, anche se il timore di sbagliare era comunque presente.
Quando ti accorgi che puoi andare a fare compere mentre stai recitando il tuo discorso, allora significa che lo hai imparato. Si arriva così alla notte in cui devi registrare. La mattinata di quel giorno, non ho dormito affatto, perché sono rimasta sveglia a piangere e pensare 'non ce la posso fare, non riuscirò a farlo senza fare un casino con le mie battute'. Sapevo che si trattava di uno dei momenti che avrebbero definito Daenerys come personaggio.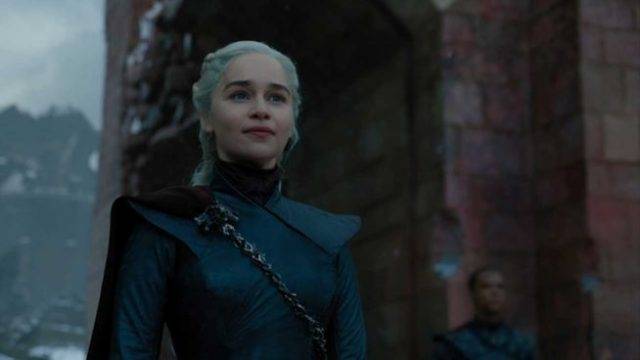 Ma Emilia non si è solamente accontentata di saper recitare il suo discorso. Ha voluto approfondire la questione cercando qualcuno che rispecchiasse la follia di Daenerys. L'attrice infatti ha rivelato che per rendere tutto più reale e credibile ha guardato molti filmati di discorsi fatti da dittatori, tra i quali Adolf Hitler.
Ho guardato un sacco di video per recitare questi discorsi in lingue che non esistono – adesso suona come una cosa stramba. Ho guardato dei dittatori e dei potenti leader che parlavano in diverse lingue, per vedere se riuscivo a capire cosa stavano dicendo anche senza conoscere la loro lingua. E sì, si capiva! Puoi capire che c***o stia dicendo Hitler, puoi capire quando parlano questi oratori che si concentrano su una singola cosa, mentre parlano la loro lingua straniera. A quel punto ho pensato "se riuscirò a credere a ogni singola parola che dirò, gli spettatori non avranno nemmeno bisogno di guardare troppo i sottotitoli".
In effetti i linguaggio del corpo di Daenerys fa trapelare una follia tipica dei dittatori accecati dal potere e assetati dal sangue dei loro nemici. L'innocenza che la contraddistingueva nelle prime stagioni è andata sempre più scemando, lasciando il posto a rabbia e sete di potere. Tipiche caratteristiche di un dittatore. Tipiche caratteristiche di una Regina dei Draghi ormai ossessionata dal trono.