Con la decisione della HBO di diffondere lo script dell'ultimo episodio di Game of Thrones, abbiamo scoperto tantissimo riguardo la puntata finale della serie. Una di queste scoperte è il vero motivo che ha spinto Drogon a distruggere il trono di spade.
Lo script dell'ultimo episodio ha chiarito la situazione
L'episodio finale The Iron Throne ha fatto discutere moltissimo gli spettatori che sono rimasti pieni di dubbi e domande dopo la visione. In realtà è stata l'intera ottava stagione a far discutere i fan che non hanno affatto apprezzato le scelte che hanno condotto al finale di serie.
Sicuramente una delle scene più forti è quella che vede Drogon bruciare il trono a seguito della morte della Madre dei Draghi: Daenerys. A questo punto chiunque abbia seguito Game of Thrones si è domandato il perché di questa scelta.
Drogon voleva bruciare il mondo
La risposta è evidente a chiunque abbia letto lo script dell'episodio diffuso da HBO. Drogon, carico di rabbia per la morte di Daenerys, voleva sfogare la sua rabbia sul mondo. Non volendo ferire Jon, il drago ha spostato la sua furia sul muro di mattoni posteriore al trono.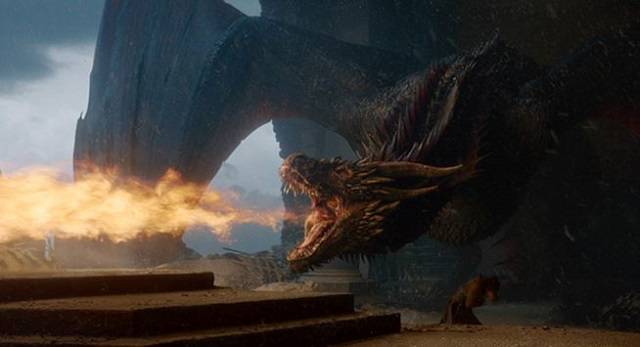 Appare quindi che il trono sia stata solo una vittima casuale del mare di fuoco uscito dalle fauci di Drogon e non l'obiettivo principale. Tale rivelazione lascia ancora più perplessi sapendo che i draghi sono dotati di un'elevata intelligenza e riescono a comprendere le situazioni del mondo umano.
L'attenzione dei fan ora è totalmente spostata sui libri di George R. R. Martin, di cui si aspetta ancora la pubblicazione. Questo perché l'autore ha annunciato che il suo finale sarà diverso da quello visto nella serie. Non sappiamo aspettare per scoprire quanto il Game of Thrones letterario si discosterà da quello televisivo.