Abbiamo già sentito parlare di come la battaglia finale in Game of Thrones 8 sarà più cruenta della Battaglia dei Bastardi. Sappiamo che ha richiesto più settimane di riprese notturne in condizioni assurde. Ma un nuovo rapporto spiega non solo chi ha partecipato alla Battaglia di Winterfell (come verrà chiamata questa battaglia finale) ma anche cosa ha dovuto fare il cast e la troupe.
Maisie Williams, che interpreta Arya Stark, ha recentemente dichiarato a EW che "girare notte dopo notte è stato veramente sfiancante e alla fine volevo solo piangere". Il co-protagonista Iain Glen, che interpreta Ser Jorah Mormont, ha fatto eco a quel sentimento. Ser Jorah ha dichiarato che quella della battaglia è stata "l'esperienza più spiacevole che ho avuto sul set di Game of Thrones".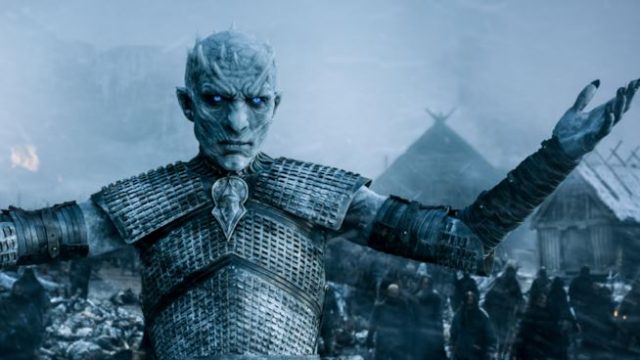 Il rapporto offre alcuni suggerimenti sulla battaglia, per esempio: l'episodio vedrà i personaggi principali riuniti in un solo posto. Questi includeranno Daenerys, Jon, Tyrion, Sansa, Arya, Brienne e Sam (la prima volta dopo l'inizio della serie) che si contrapporranno al Re della Notte e al suo esercito; le riprese, dirette dal regista Miguel Sapochnik, sono state talmente stancanti che sul set hanno soprannominato il periodo passato a girare come "La lunga notte".
L'episodio in Game of Thrones 8 mostrerà Arya nel mezzo di un'enorme battaglia per la sua prima volta. Sapochnik ha sottolineato a Maisie di allenarsi duramente già dall'anno prima dell'inizio delle riprese. Inoltre, un'attrice principale (non si fanno nomi in questo rapporto) è svenuta sul set durante le riprese di una scena (non di combattimento), tornando al lavoro il giorno dopo.
Sarà qualcosa di mai visto prima: saremo protagonisti di una vera e propria rivoluzione nel modo di fare serie tv. Game of Thrones 8 ne sarà all'altezza?