Se, come molti di noi, avete una vita sociale e lavorativa o semplicemente ieri sera eravate troppo stanchi per seguire la diretta di Game of Thrones, non disperate. Non c'è bisogno di mettere in pausa i gruppi a tema, e gli amici più fomentati. Non dovrete più scorrere la bacheca col cuore in gola. Non dovete disinstallare Facebook, Instagram, tutti i social dove, scorrendo tranquillamente, potreste incappare in uno spoiler.
Perché esistono un plug-in di Chrome e un'app per Android che potrebbero fare al caso vostro.
Unspoiler è un plug-in di Chrome ed è fino ad ora il sistema più efficace e affidabile per navigare in tutta tranquillità, senza temere spoiler. Né di Game of Thrones né di qualunque altra serie: potete infatti impostare di nascondere la serie che preferite. Una volta bloccata la serie desiderata, Unspoiler porrà dei banner rossi sopra i contenuti che potrebbero contenere informazioni spiacevoli.
I contenuti sono però visualizzabili, ovviamente a vostro rischio e pericolo, cliccando un apposito pulsante. Ci sentiamo di dirvi, però, che se consapevolmente decidete di visualizzare post su Game of Thrones prima di aver visto l'attesissima prima puntata, sono un po' fatti vostri.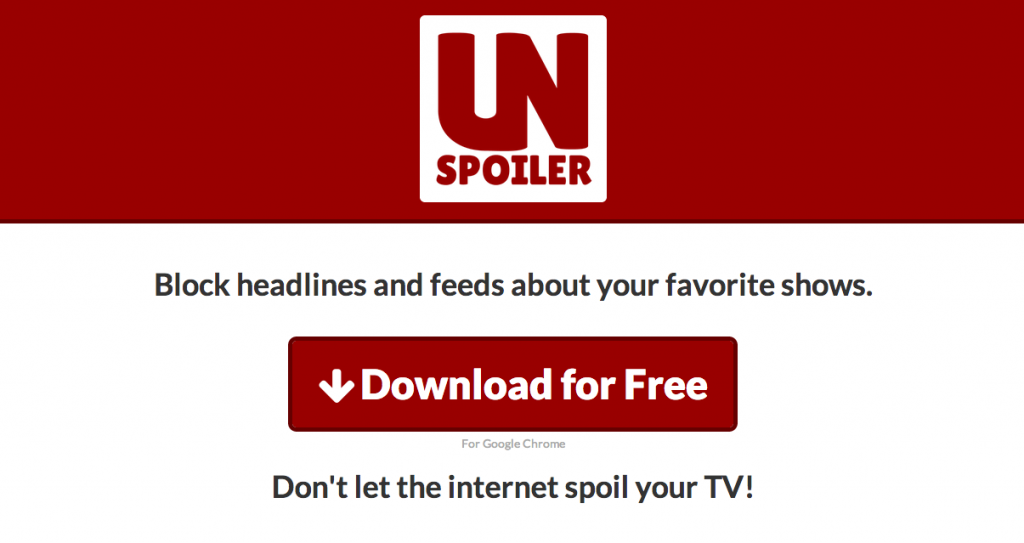 Un'altra soluzione è Spoiler Blockers, un'applicazione che blocca tutti gli spoiler. Una differenza con Unspoiler è che potete personalizzare il colore del banner. Potete bloccare i contenuti indesiderati su diverse app, e funziona anche nelle stories di Facebook.
Una volta bloccata una determinata serie, come Game of Thrones, l'app vi mostrerà l'interfaccia del colore che preferite con su scritto "spoiler alert". Diversamente da Unspoiler, non potete in alcun modo sbirciare i contenuti nascosti. Una bella differenza, insomma, per curare le forme più degenerative di masochismo.
Precisazione importante: sia Unspoiler che Spoiler Blockers sono assolutamente gratuite.
Speriamo di essere riusciti a farvi venire voglia di installare questa app, in caso il tempo per aggiornarvi su Game of Thrones non sia dalla vostra parte. Perché la voglia di vedere la puntata, quella già c'è tutta!