La Serie Tv canadese Frontier – che vede protagonista l'attore Jason Momoa (famoso per aver interpretato Khal Drogo in Game of Thrones) – tornerà con una seconda stagione. La trama racconta del mondo del commercio di pelli alla fine del diciottesimo secolo.
Frontier tornerà in onda sulla Discovery Channel Canada con sei nuovi episodi il 18 ottobre 2017. Il primo trailer è già stato rilasciato, eccolo:
Esplorando storie che sembrano distanti tra loro, la frontiera si espande con nuove vedute delle terre selvagge del nord. Nuovi giocatori entreranno nello spietato gioco, alla ricerca del potere e del benessere.
Fort James è nel caos dopo che Michael Smyth (Landon Liboiron), Sokanon (Jessica Matten) e Grace Emberly (Zoe Boyle) hanno fatto saltare il magazzino delle munizioni. Declan Harp (Jason Momoa) è sfuggito al boia. Senza Harp, la compagnia del Lupo Nero è disgregata. Nessuno sa se Harp è sopravvissuto ma Lord Benton (Alun Armstrong) offre una taglia per la sua testa e minaccia i suoi alleati.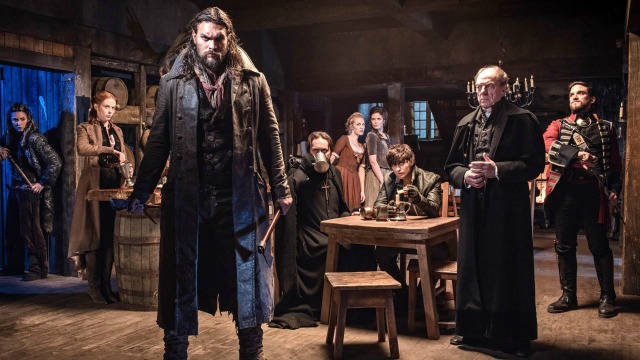 Il capitano Chesterfield (Evan Jonigkeit) cerca un'opportunità per lasciare il segno. Emberly metterà a rischio tutto quello per cui ha lavorato, compresa la sicurezza delle donne che lavorano per lei, Mary e Imogen. A Montréal, la lotta per il potere nel commercio di pelli si combatterà tra Elizabeth Carruthers (Katie McGrath) e Samuel Grant (Shawn Doyle).
La Serie Tv è già stata rinnovata dalla Discovery per una terza stagione di 6 episodi. Ken MacDonald, vice-presidente della Discovery Networks Canada ha affermato:
"Discovery è lieta di confermare il rinnovo alla terza stagione. Siamo orgogliosi di lavorare con i nostri partner della Take the Shot Productions (casa di produzione) e i nostri partner internazionali, per portare la nuova stagione sulla Discovery in Canada e su Netflix negli altri paesi."
In Italia è possibile vedere la prima stagione di Frontier sulla piattaforma on demand Netflix.