Pare proprio che a Matt LeBlanc (l'indimenticabile Joey Tribbiani in Friends) non piaccia avere torto. E in una discussione con Jimmy Fallon lo ha dimostrato. Lo vediamo nel video qui sotto.
Ormai segnato dal tempo che passa inesorabile, ma con ancora quel fascino che lo contraddistingue, Matt non è mai riuscito a distaccarsi del tutto dal suo personaggio nella storica comedy. Matt LeBlanc è ancora Joey Tribbiani, e risulta difficile non accomunarlo ogni volta alla serie Friends.
Nonostante qualche altro lavoro in film e serie tv, Matt è stato il meno fortunato tra i sei attori protagonisti della serie, non riuscendo ad "andare oltre" il suo ruolo iconico. Ma non è detta l'ultima parola, Matt potrebbe ancora stupirci.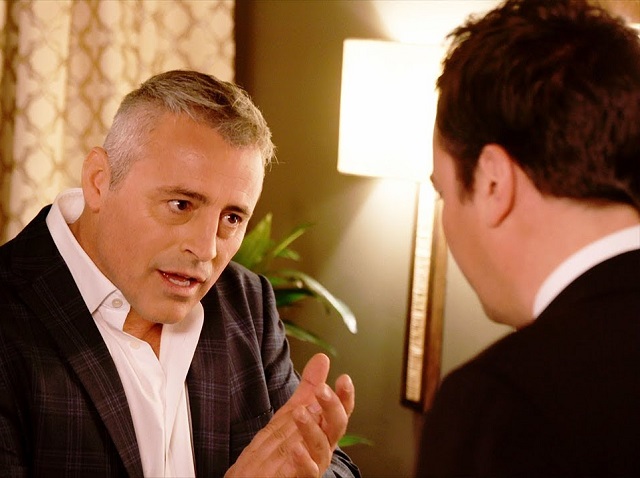 Nel frattempo è impegnato con partecipazioni a programmi e interviste, come quella al The Tonight Show Starring Jimmy Fallon. Nel video sopra citato, vediamo Matt – appena prima di entrare in scena come ospite del programma – nel camerino intento a prepararsi. Ad interromperlo è lo stesso Jimmy Fallon, che gli fa una domanda sulla serie tv Friends, sicuro che l'attore sappia la risposta esatta.
"Quanti clap si sentono nella sigla di Friends?"
L'ormai conosciutissima e amatissima sigla è I'll be there for you dei The Rembrandts. Nel video il nostro Matt canticchia la canzone e al momento dei clap batte le mani 5 volte. Jimmy però è sicuro che siano 4 clap invece. Inizia un battibecco tra i due e… il finale potete vederlo voi stessi.
Ecco qui il video dell'esilarante scenetta:
Dite la verità, vi siete messi a canticchiare la sigla e a contare quanti clap ci sono. Se volete saperlo, sì sono 4, come dice Jimmy Fallon. Ora sicuramente vi è venuta voglia di riascoltarla.
Lo so, non ringraziatemi: