Se nella vostra testa continuano a risuonare i versi di "Smelly Cat", corri subito nella tua caffetteria di fiducia, incontra i tuoi amici di una vita, perché qualcuno ha appena creato un fan-trailer sul film reunion di Friends. Dal 1994 al 2004, Friends mandato in onda dalla NBC ci ha regalato dieci stagioni di lacrime e risate di sei amici newyorkesi alla soglia dei trent'anni. Adesso la Serie Tv è ritornata in auge grazie a Netflix dove possiamo trovare tutte e dieci le stagioni. Il video in questione montato da Smasher, ci fornisce un breve accenno di quella che sarebbe stata la vita di Ross, Monica, Chandler, Phoebe, Joey e Rachel molti anni dopo.
Una perfetta dose di nostalgia degli anni '90 è quello che ci mancava. Il video si intitola "The One With The Reunion" caratteristica sempre presente negli episodi di Friends, ovvero il titolo (eccetto per alcuni episodi). Il video è davvero convincente tra scene prese da Cougar Town e Joey,è come se i Central Perk Six fossero tornati insieme. Chandler e Monica si sono separati (ma potrebbe riaccendere la fiamma), Phoebe ha un lavoro altalenante in medicina, la carriera di attore di Joey sta andando alla grande e Rachel è di nuovo incinta.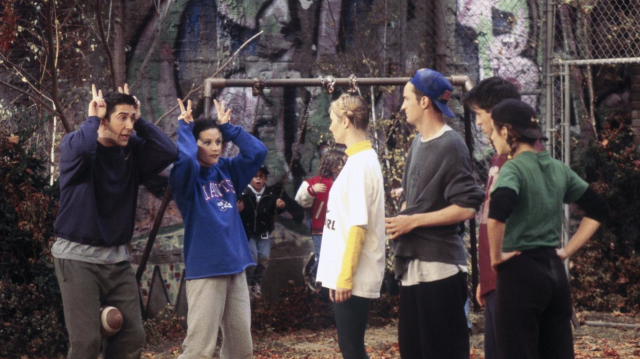 Un film su Friends potrebbe non essere una cattiva idea, se pensiamo anche al successo che hanno avuto i film di Sex and The City. Gli attori post-Serie Tv hanno continuato la loro vita. Alcuni hanno avuto più successo di altri e un film sarebbe un bel colpo anche per la NBC. Nuove avventure da affrontare e soprattutto nuovi ostacoli con i sei personaggi principali che affrontano i problemi relativi alla mezza età. Friends, ancora oggi, raccoglie attorno a se una quantità mostruosa di fan che sono sempre pronti re-watchare all'infinito la Serie Tv. Ma adesso abbiamo detto fin troppo, qui sotto troverete il famoso trailer. Preparate i fazzoletti..