Il grande successo dell'attore Darren Criss è notoriamente dovuto ai numerosi ruoli come personaggio omosessuale. Lo ricordiamo maggiormente, infatti, per figure quali Andrew Cunanan in American Crime Story: l'assassinio di Gianni Versace, grazie al quale ha ottenuto un Emmy; Blaine Anderson nell'iconica serie Glee; Hedwig nel musical di Broadway Hedwig and the Angry Inch.
Sebbene questa tendenza gli abbia portato bene e lo abbia formato a 360 gradi, in un'intervista rilasciata a Bustle, Darren Criss ha chiaramente spiegato le motivazioni per cui interpretare personaggi LGBTQ lo metterebbe ormai a disagio:
Ci sono alcuni ruoli queer che sono fantastici. Ma non voglio più essere l'ennesimo eterosessuale che ottiene la parte che dovrebbe essere di un uomo gay. […] Mi dispiace molto [non sentirmi più a mio agio], perché interpretare questi ruoli è un'esperienza drammatica interiore straordinaria. Sono ruoli molto complessi e interessanti.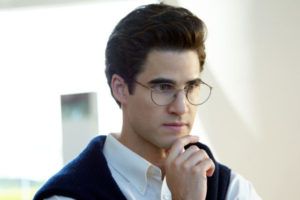 Bustle ha successivamente fornito delucidazioni in merito alle affermazioni piuttosto spiazzanti e categoriche dell'attore. Parlando infatti dell'attivismo dell'associazione GLAAD, il cui obiettivo è quello di contrastare l'abitudine di assegnare ad attori eterosessuali anche ruoli omosessuali, ignorando la più efficace attitudine di attori dichiaratamente gay nell'interpretare determinate storie.
Tale tematica ha sensibilizzato particolarmente l'attore Darren Criss negli ultimi periodi, al punto da arrivare a riconoscere che "c'è un'onestà maggiore nell'affidare certe parti ad attori che condividono le identità dei loro personaggi". L'attore ha infatti continuato:
L'impegno che un attore mette nell'interpretare un personaggio raccontando quella storia è tale per cui può raggiungere efficacemente le vite delle persone. Ed è qualcosa di davvero importante.
In chiusura, pone come esempio il suo stesso ruolo in American Crime Story: l'assassinio di Gianni Versace nei panni di Andrew Cunanan:
Non ho scelto io di essere mezzo-filippino. È una cosa che adoro, ovviamente, mi sento benissimo a riguardo. E sono molto fiero e orgoglioso di poter rappresentare persone che vedono la mia presenza nei media come una guida, un punto di riferimento per la propria vita. È un vero privilegio.
Non ci resta che abituarci all'idea di un Darren Criss totalmente rinnovato, nelle sue future apparizioni.