Finalmente la settimana è ricominciata. Oggi è lunedì e noi nerd amanti di Serie Tv e fumetti sappiamo cosa vuol dire. Il crossover tra Arrow, The Flash, Legends of Tomorrow e Supergirl andrà in onda a partire da questa notte. Noi di Hall of Series abbiamo creato questo piccolo evento. Per tutta la settimana saremo qui con voi, con pagelle deliranti e recensioni dettagliate. Saremo sulla Waverider a fianco dei nostri supereroi per aiutarli a sconfiggere questa pericolosa incombente minaccia.  
Per questo motivo, prima di addentrarci pericolosamente nel bingewatching delle puntate, sarebbe meglio fare un recap della situazione. Questo articolo prevede molti spoiler sia riguardo le puntate passate che quelle future del crossover, ragion per cui procedete con estrema cautela. Ecco a voi, tutte le indiscrezioni che abbiamo raccolto su Crisis on Earth-X.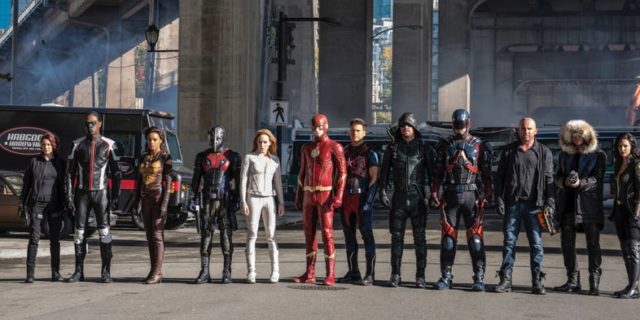 Non abbiamo dubbi che l'evento che accomuna le quattro Serie Tv della The CW sarà il matrimonio tra il velocista Barry Allen (interpretato da Grant Gustin) e Iris West (interpretata da Candice Patton). Durante un'intervista per Screen Rant, Grant Gustin ha parlato del matrimonio di Barry e Iris e della sua collocazione nel crossover Crisis on Earth-X:
"Ci prepariamo per questo matrimonio da molto tempo. É parte integrante del crossover. Sarà strano perché dopo tutto questo tempo non farà parte di The Flash, sarà tecnicamente una Serie Tv differente. Quindi sono curioso nel vedere come il pubblico reagirà. The Flash è nato da Arrow, abbiamo sempre fatto questi crossover e abbiamo riunito così tanti personaggi per questo matrimonio. Sono veramente eccitato!"
Insieme a Legends of Tomorrow, The Flash è sempre stato caratterizzato da toni un po' meno seriosi rispetto ad Arrow. Il velocista scarlatto darà un tocco di leggerezza agli eventi di questo crossover. Per chi non lo sapesse, la Terra così come la conosciamo dovrà affrontare una nuova minaccia. I doppelganger cattivi dei nostri supereroi preferiti. Crisis on Earth-X porterà allo scoperto evil Supergirl, ma anche Prometheus-X e Harrison Wells.
Il crossover di quest'anno sarà ancora più grande del precedente. L'anno scorso, l'evento che ha unito le quattro Serie Tv della DC Comics ha avuto inizio soltanto alla fine dell'episodio di Supergirl, quando Cisco e Barry hanno attraversato il portale per andare a chiedere aiuto a Kara. Questa volta sarà diverso, Crisis on Earth-X unirà i quattro show, in uno spettacolo di quattro ore diviso in due giorni (e non in quattro come lo scorso anno). I nostri supereroi dovranno affrontare nemici mortali: visioni alternative della realtà di loro stessi.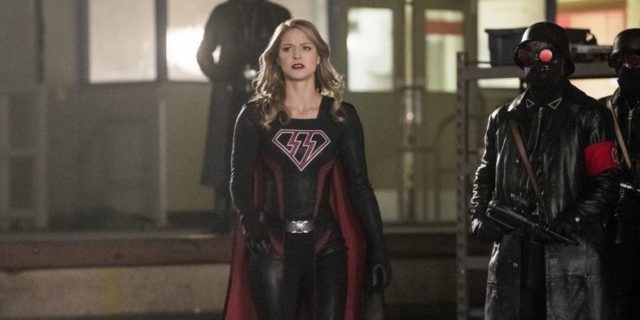 La The CW ha pubblicato il trailer di Crisis on Earth-X, pieno di azione. Ma quello che più colpisce è l'attenzione al concetto di Multiverse. In The Flash è stata introdotta l'idea di molte altre Terre, ognuna con versioni parallele dei personaggi principali dell'Arrowverse. Ma non c'è stata alcuna indicazione su quanto sia espanso il Multiverso. In questo trailer, Harry spiega che ci sono 53 terre totali. La 53-esima terra è Earth-X. Un universo dove i Nazisti hanno vinto la seconda Guerra Mondiale e sono in possesso di super guerrieri. Tra cui Overgirl e The Ray che faranno la loro prima apparizione nella storyline.
Come abbiamo detto prima, ogni supereroe avrà il suo corrispettivo cattivo in Terra-X. Ciò significa che attori come Melissa Benoist reciteranno un doppio ruolo. Non solo Supergirl, ma anche la sua controparte interdimensionale Overgirl. Vedremo, inoltre, altri personaggi vestire ruoli familiari come Leonard Snart (che abbandonerà il ruolo di Captain Cold dopo questo crossover) e volti meno familiari come Russel Tovey nei panni di The Ray. Il trailer esteso che vi mostreremo qui, fa un breve accenno alle caratteristiche del costume di Overgirl e quello che accadrà quando le Girls of Steel si scontreranno l'una contro l'altra.
Chi invece, non avrà un ruolo fondamentale in questo crossover sembra essere John Diggle. A dichiararlo è lo stesso David Ramsey durante un'intervista:
"Non ho fatto molto. Ma il matrimonio è stato grandioso. E ho avuto modo di partecipare al nostro episodio 8, che è la parte migliore del crossover. In un'altra intervista ho detto che Stephen e Melissa in particolare spiccheranno su tutti, fanno davvero un ottimo lavoro. Penso che voi ragazzi vi divertirete."
Non mancano le dichiarazioni anche da parte dell'attore di Legends of Tomorrow, Brandon Ruth. La Serie Tv arrivata per ultima nell'universo dell'Arrowverse chiuderà il cerchio del crossover. Ray Palmer aka The Atom, ha dichiarato:
É stato piuttosto folle, avere 21 persone, 21 supereroi sulla Waverider. Greg Smith che ha diretto l'episodio sapeva quello che voleva, quindi girare le scene è stato veloce.
Tuttavia, c'è anche un lato serio di questo evento crossover. Il produttore esecutivo di Legends of Tomorrow, Phil Klemmer, ha già stuzzicato i fan. Anche se ci sono "alcuni momenti ridicoli", c'è anche "questa cosa che succederà vi farà versare molte lacrime".
L'appuntamento, vi ricordiamo, è prima di tutto con Supergirl e Arrow (mandati in onda il lunedì in America) e successivamente con The Flash e Legends of Tomorrow (mandati in onda il martedì).
Si prospetta una settimana a bordo di #CrisisCrossoverEvent, solo su Hall of Series!