Se siete amanti del cinema d'autore, credetemi, questa notizia non potrà che farvi felici:
i fratelli Coen si cimenteranno in una miniserie TV.
Ebbene sì, sceneggiatori e produttori acclamati, nonché signori indiscussi del grande schermo con film come Fargo, Il grande Lebowski, Fratello, Dove sei?, Non è un paese per vecchi e l'ultimo grande successo con George Clooney e Scarlett Johansson, Ave Cesare! hanno deciso di buttarsi su questo nuovo progetto.
La miniserie TV che li vedrà impegnati è The Ballad Of Buster Scruggs e sarà prodotto dalla casa di produzione Annapurna Television, guidata da Sue Neagle, ex presidente della HBO.
A diffondere questa notizia è stata Variety, secondo cui la serie sarà di genere western e potrebbe essere gestita con un approccio finora inedito: combinando per esempio una distribuzione televisiva a una cinematografica, purtroppo però non ci sono dettagli precisi né su questo né riguardo alla trama, se non che tratterà sei storie diverse che si intrecceranno tra loro.
Ovviamente questo non è il primo caso in cui grandi registi o sceneggiatori del cinema abbiano deciso di "trasferirsi" in TV, almeno per un breve periodo. Va ricordato, per esempio, David Lynch visionario regista di film come Velluto blu e Mullholland Drive e di cui si è tornato a parlare recentemente: la sua Serie Tv Twin Peaks, uscita con due stagioni nel 1990, rinascerà proprio quest'anno con nuovi episodi.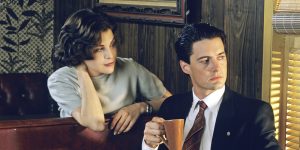 Neppure il grande Woody Allen si è fatto spaventare dal pubblico televisivo, è nuovissima ed inedita, infatti, la sua serie comica Crisis in Six Scenes, composta da sei episodi e distribuita dalla piattaforma Amazon prime.
Purtroppo non a tutti è andata bene, dopotutto anche i migliori possono sbagliare, ed è il caso di Martin Scorsese, che dovette dire addio, dopo una sola stagione, al suo esperimento televisivo Vinyl.
Ma di certo non sarà il caso dei leggendari fratelli Coen!