Il terzo capitolo di Chilling Adventures of Sabrina è quasi alle porte e, senza alcun preavviso, Netflix ne ha rilasciato l'intrigante trailer. La precedente stagione è stata un susseguirsi di emozioni e colpi di scena e la terza appare già estremamente interessante.
Lo show, capitanato dalla bravissima Kiernan Shipka, tornerà presto su Netflix con ben otto episodi. Il 24 Gennaio, quindi, potrete dare inizio al binge watching, recuperando le avventure della strega più coraggiosa del mondo seriale. Nel frattempo, il trailer ufficiale della terza stagione ci mostra una Sabrina Spellman ancora più agguerrita.
Nel secondo capitolo la protagonista ha dovuto affrontare potenti incantesimi, tradimenti e addii struggenti. E come una combattente, la strega è riuscita a salvare Greendale. Le sorprese non sono mancate, soprattutto nel finale di stagione. Un esempio lo è il toccante sacrificio di Nicholas Scratch, il quale ha imprigionato il Signore Oscuro nel proprio corpo pur di salvare la fidanzata e i suoi amici.
Inoltre, le donne dello show diventano le protagoniste assolute della scena. Lilith si proclama infatti la Regina dell'Inferno, mentre zia Zelda assume finalmente il ruolo di alta sacerdotessa. La conclusione di Chilling Adventures of Sabrina ha quindi lasciato parecchie questioni in sospeso che ci auguriamo possano trovare risposta nella prossima stagione.
Fortunatamente il trailer mostra alcune delle novità che ritroveremo nello show. Sabrina sembra infatti motivata a tornare all'inferno per salvare il proprio ragazzo. Anche gli amici della protagonista avranno un ruolo centrale nella narrazione.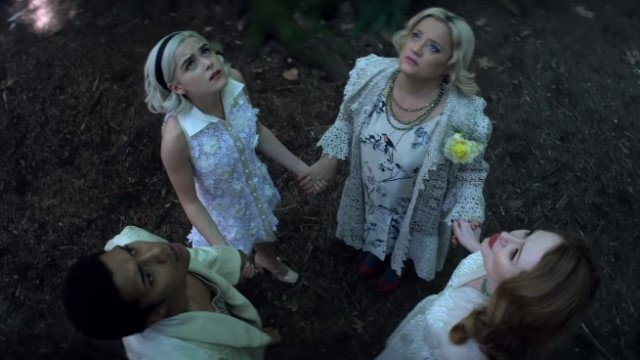 Il filmato ci anticipa una terza stagione più horror rispetto alle precedenti, a tratti più matura. L'attesa per Chilling Adventures of Sabrina è quindi parecchia. Nel cast ritroveremo, oltre che la Shipka, Miranda Otto, Lucy Davis, Ross Lynch, Jaz Sinclair, Tati Gabrielle, Chance Perdomo, Michelle Gomez, Gavin Leatherwood e Lachlan Watson.
La serie tv, disponibile dal 24 gennaio su Netflix, è già stata rinnovata per una quarta stagione.