Buffy the Vampire Slayer, Serie Tv prodotta dal 1997 al 2003, conta ancora oggi innumerevoli fan che continuano a parlare delle imprese della bionda ammazzavampiri anche a distanza di anni.
E se vi dicessimo che le sue vicende potrebbero venire trascritte in una serie di libri per ragazzi?
Questa volta non sarà il nostro caro Joss Whedon a raccontarci le avventure di Buffy Summers ed i suoi amici. Non parliamo, infatti, dei classici fumetti che Whedon scrive ormai da anni. Siamo dinnanzi ad un progetto completamente nuovo, che mira a non far finire nel dimenticatoio la nostra Cacciatrice preferita.
Secondo l'Entertainment Weekly, infatti, la Little, Brown Books for Young Readers avrebbe firmato un accordo con la disegnatrice di fumetti Carolyn Nowak per creare una nuova serie di libri proprio dedicata a Buffy Summers! Il progetto consiste nel raccontare la storia di Buffy the Vampire Slayer tramite fumetti, diari, appunti, disegni e messaggi, è dedicato in modo particolare ai ragazzi dagli otto ai dieci anni e vedrà la luce a settembre 2018.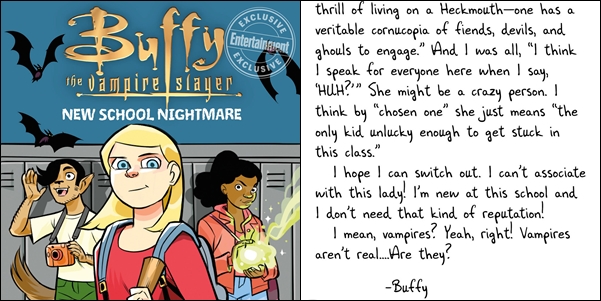 Da alcune immagini che abbiamo scovato sul web possiamo notare che la trama non è esattamente identica a quella della Serie Tv che tutti conosciamo; questi libri avranno molto probabilmente una storyline più semplice, adatta appunto ad una fascia d'età non troppo alta. Persino nella copertina del primo volume, nell'immagine qui sopra a sinistra, notiamo che i "nuovi" Willow e Xander sono un bel po' diversi da quelli che abbiamo avuto modo di conoscere nella Serie Tv Buffy the Vampire Slayer!
E voi, cosa pensate di questo nuovo progetto? Sarà un bene che anche le nuove generazioni conoscano l'ammazzavampiri più famosa del mondo seriale, o con questi libri si rischia di banalizzare un po' troppo il ricordo di Buffy the Vampire Slayer?