La notizia della data di rilascio della sesta stagione di Bojack Horseman ci ha lasciato un po' tristi: sarà infatti l'ultima.
Le due parti finali arriveranno su Netflix il 25 ottobre e il 31 gennaio.
Bojack Horseman è l'ultimo di una lunga lista di serie tv cancellate quest'anno, tra cui Santa Clarita Diet, The OA e Tuca & Bertie (creato dallo stesso team di Bojack). E se Aaron Paul – voce di Todd – associa a Netflix la chiusura, alcuni fan hanno ipotizzato che c'è di più.
Bojack è realizzato dallo studio di animazione ShadowMachine per la casa di produzione The Tornante Company, di cui Michael Eisner (ex CEO della Walt Disney) è il direttore. Lo scorso giugno il team di animatori della serie tv ha avuto una vittoria professionale: è riuscito a ottenere un nuovo contratto per i lavoratori, dopo mesi di negoziazione.
Infatti, gli sceneggiatori e doppiatori sono stati sindacalizzati (nelle union) dal primo giorno, a differenza dagli artisti animatori.
Questi ultimi, sindacalizzandosi sotto il sindacato The Animation Guild (TAG), sono riusciti a ottenere stabilità in termini di stipendio, pensione e indennità per le malattie.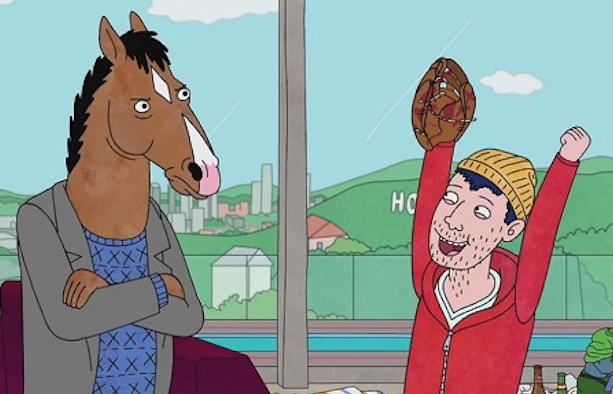 Jason MacLeod, rappresentante del TAG, ha affermato:
"Questo contratto non sarebbe stato possibile senza il lavoro e la dedizione del comitato di negoziazione del team di Bojack Horseman. Questo staff è stato organizzato, determinato e ha dimostrato solidarietà e risolutezza."
L'azione di sindacalizzazione ha influenzato la scelta di cancellare la serie tv? Né produttori né artisti hanno rilasciato commenti a tal proposito. Nemmeno Netflix ne ha discusso, e probabilmente non avremo mai un suo comunicato, data la propensione a non rivelare queste informazioni. Ma i fan hanno tratto le loro conclusioni.
Per Netflix, inoltre, non è un buon periodo finanziariamente: le azioni sono crollate, a causa – anche – dell'ingresso nel mercato dello streaming di altre aziende.
Fonte: Digital Spy